Be a reliable and trustworthy destination consultant company in Cambodia with its business baseline to be socially and environmentally contributed. Sam Inspire Cambodia is pleased to feature the full meaning of CSR and the CSR programs as following:
Corporate social responsibility (CSR) is all about businesses doing their share to give back to society, and raising money for deserving causes is a key part of that. Communities, businesses, and customers can and should all prosper together.
We may assist businesses that want to support one worthwhile charity, allow local community causes to be supported by regional offices or stores, allow consumers to support causes of their choice, or reward staff with donations to causes they care about.
Corporate social responsibility (CSR), which has become a crucial component of creating company strategies and collaborations, is seen by many as an opportunity for a firm to improve relationships with stakeholders at every level.
Businesses have looked to CSR as a way to strengthen the firm while giving back to society as customers, employees, and suppliers start to place increasing emphasis on CSR activities.
CSR promotes improving business performance and creating a beneficial social impact when carefully considered with an effective strategy.
So, what is corporate social responsibility exactly, what are its advantages, and why is it so crucial?
We address all of those queries and more in this practical guide to CSR.
Check it out.
The background of Corporate Social Responsibility (CSR)
The earliest forms of CSR surfaced when American economist, Howard Bowen, coined the term in his book 'Social Responsibilities of the Businessman' in 1953. He described CSR as the obligations of businesses to pursue policies 'which are desirable in terms of the objectives and values of our society'.
More recently, in 1991, Archie Carroll organised the expected corporate social responsibilities into a four-level model called the 'pyramid of corporate social responsibilities'. The commonly used framework is made up of four different responsibilities – namely, economic, legal, ethical and philanthropic.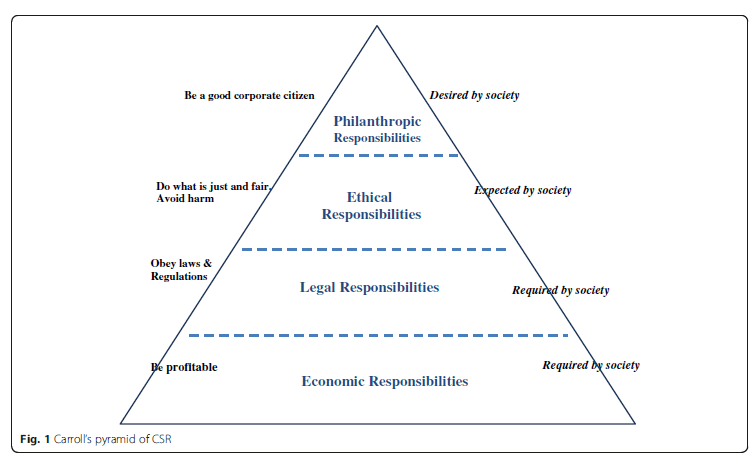 The term "corporate social responsibility" (CSR) describes the actions taken by a business to better society and advance sustainable development. CSR, also referred to as corporate conscience or corporate citizenship, refers to business-led programs to assess and accept responsibility for their influence on a variety of issues, such as human rights and the environment.
The goal of corporate social responsibility (CSR) programs is to achieve economic, social, and environmental advantages for all parties involved. CSR is a form of self-regulatory company plan (employees, consumers, investors and other groups).
Having a more positive impact on society by ensuring sustainable growth is the goal of CSR, which encourages firms to conduct their operations ethically.
Sustainability is frequently brought up in relation to CSR and is typically connected to environmental sustainability. However, sustainability can also be used to describe a variety of other company operations, such as hiring, training, and economics.
Corporate social responsibility usually refers to actions made by companies that go above and beyond what is required by law and moral standards set out by authorities and environmental organizations.
Short-term costs associated with CSR are frequently necessary to support and prioritize social and environmental improvement rather than immediate financial gain for the company.
A number of solutions are available from Sam Inspire Cambodia to assist your business planning your meaningful and impactful CSR projects in Cambodia. Call us right away for assistance with the CSR of your business.
The objective of corporate social responsibility (CSR) strategy is to build shareholder trust and increase long-term earnings in a sustainable and ethical way by taking ownership of corporate actions and improving them.
As a result, CSR efforts are frequently characterized as ones that prioritize social benefit over the frequently transient concerns of firm financial performance. Corporate social responsibility can take shape in numerous ways, with frequent examples being donating money to charities and establishing environmental programmes in the workplace. More productively and meaningfully, with Sam Inspire Cambodia as your CSR teambuilding consultant, Sam will support you from concept building till evaluation and action plans for the future activities. Check this sample social teambuilding program:
Corporate Social Responsibility (CSR) categories
Corporate social responsibility comes in a variety of forms, all of which focus on particular problems. However, the three basic categories of CSR are philanthropic, ethical, and environmental. Here, we'll go over each one.
1. Environmental Corporate Social Responsibility
Many businesses concentrate their CSR efforts on lessening their environmental effect, making it one of the most popular types of CSR.
Pollution and excessive resource use are now a social and political concern on a worldwide scale, although negative environmental effects were earlier rejected as an inevitable and essential cost of conducting business.
Due to this, environmental CSR has become increasingly popular, with many businesses placing a high priority on how their operations affect the environment.
Environmental CSR generally focuses on a company reducing waste and greenhouse gas emissions. This entails reassessing a company's manufacturing procedures in order to spot unnecessary practices and eliminate them from the business strategy.
By having Sam Inspire Cambodia to design your Environmental CSR programs, Sam will integrate your program in his 1.5 million tree planted by the end of 2023.
2. Ethical Corporate Social Responsibility
The goal of ethical corporate social responsibility initiatives is to guarantee that all parties involved in a business—from customers to employees—are treated fairly.
Ethical obligations are self-enforcing initiatives that a business implements because it feels it is the right thing to do morally, not because it has to. Businesses strive to have the maximum positive impact by taking into account how stakeholders will be impacted by their action.
While a company's main worries are usually its legal and financial obligations, once these have been taken care of, it can turn its attention to its ethical obligations.
The goal of ethical CSR initiatives is to ensure that all employees are treated fairly. Common examples include paying higher wages, providing employment to those who might otherwise struggle to find employment, ensuring that decent standards are upheld in factories, and refusing to do business with dishonest companies or oppressive nations.
Sam is here not just to take but to give reasonably and fairly. Be inclusive, empowering and refraining from all forms of Harassment, Bullying, and Discrimination treated to everyone is already the nature of how Sam lives.
These initiatives, though sometimes challenging to implement, are meant to ensure that all parties involved—including employees, clients, shareholders, and other stakeholders—get the best possible deal.
3. Philanthropic Corporate Social Responsibility
Philanthropic CSR, however, refers to more than just charitable giving. Investing in the neighborhood or taking part in neighborhood projects are two more typical charitable duties. The basic objective is to serve a community in some way that goes beyond just employment.
By making contributions to the community, the company fosters employee loyalty and gains access to a better network of resources. Corporate philanthropy is another way for businesses to show their commitment to the community and show that they care about it more than just as a resource for employees or customers.
With the founder, Sam who has founded a noble charity school (Angkor Kids Center) and not for profit organization (All for Kids Organization). He is also experienced working for International community development Organization like Plan International Cambodia. Sam understand the need and the side effects. Therefore, he is the best consultant for your Philanthropic CSR program.
Why Corporate Social Responsibility is Importance
Corporate social responsibility gives organizations a competitive edge, increases brand recognition, and fosters trust among shareholders, clients, and staff. A significant advantage is proving that businesses, consumers, and communities can all prosper together.
A great method for businesses to show their humanity while contributing to society, the environment, and their stakeholders is through corporate social responsibility.
CSR is a way to actively manage those connections to benefit a company as well as those people, organizations, and communities you are connected to through what you sell, who you hire, who you buy from, and other factors. Our world, the people, and the organizations in it are becoming ever more interconnected, and CSR is a way to do that.
Since sustainable development is at the heart of CSR, firms should incorporate CSR strategies into their business plans for the benefit of the environment as well as their own success.
Corporate social responsibility benefits for businesses
Corporate social responsibility offers a variety of other advantages besides motivating businesses to reexamine their business strategies to become more moral and aware of their impact on society. Although CSR fees initially may seem deterring, many of them have significant long-term advantages.
Better public perception of the company and more customer loyalty — CSR initiatives help a brand become more well-known among the general public. It makes reasonable that customers would prefer to do business with organizations that care about social causes and exercise social responsibility. Customers are more likely to stick with businesses that value and respect them. Customers want to be recognized and support ethical enterprises.
Finding areas for improvement (AFI)- CSR initiatives frequently prompt companies to analyze and assess their current procedures, with many of these reviews resulting in the identification of potential improvements for the company.
Increased employee engagement and satisfaction – It goes without saying that employees want to work for an organization that supports great projects and has a positive reputation. CSR initiatives engage employees and foster goodwill by fostering a sense of belonging and connecting among them. CSR becomes a genuinely potent force when stakeholders including staff, clients, and even suppliers are able to strongly influence areas of effect.
Talent and investors are attracted — Through CSR initiatives, businesses may show their commitment to enhancing communities, which increases their ability to recruit talented and motivated personnel.
Similar to customers, investors favor doing business with reputable organizations that value CSR. Businesses that engage in CSR efforts show investors that they care about more than just making a profit; they also care about the betterment of society and deserving causes.
Conclusion of CSR Context
We've covered a lot, but we hope you learned something new about what CSR is, why it matters, and how it helps all the stakeholders in a company.
While creating effective corporate social responsibility programs requires much preparation and investment, the rewards for all parties make it undeniably worthwhile!
Making a meaningful and lasting impact on the local host communities is a key component of CSR's mission to add value to society. The best programs may be planned and delivered in Siem Reap, Cambodia, with the assistance of Sam Inspire Cambodia.
About Sam Inspire and What you can Expect from
Sam Inspire is your most reliable and trustworthy destination consultant company in Cambodia. Sam Inspire Cambodia founded by a renowned travel and event hospitality expert, Mr. Samnang Chhon known as Sam. Located in the main tourism destination and home to Angkor Wat, Siem Reap, Cambodia, Southeast Asia. Unless most other consultant agencies, and with a team of loyal and knowledgeable destination consultants in the company, Sam Inspire offers Teambuilding organization, CSR and FSR programs, Event Management, Film stringer coordination, School outdoor and experiential Learning and more. 
Furthermore, Sam Inspire is giving away various and extensive destination tips and information through the blogging section. This resourceful blog is including but not limited to Travel tips in Cambodia, Business guide, Real Estate and property investment tips, and other useful information that Sam Inspire find them useful to the readers.