My name is Samnang Chhon known as Sam. Greetings from Siem Reap, Angkor, Cambodia. I write to update you on happenings around Siem Reap as we enter a period of hope and recovery, especially for those individuals and communities that are connected to tourism.
A new chapter begins
I am announcing my post Covid-19 business incubator of a Destination Service Management, SAM INSPIRE Cambodia. It will focus on Team Building, CSR projects, Event Management, Outdoor Learning for School trips and Film Stringer Services in Cambodia. As many of you know these are areas of my expertise.

The business was relaunched in September 2022 after Covid-19 has relaxed, with a few times of successful Danone Nutrition Face to Face Conference in Siem Reap, one time TurnUp Business Pitching of 500 Global event in Phnom Penh, a Hi-tech double Hybrid event "ECA Partner Meet 2023" of Education Centre of Australia event taken place at Sofitel Angkor hotel in Siem Reap and an Amazing Race Team Building and CSR Program for MB GROUP from Singapore. Not just about corporate clients, SAM INSPIRE has fully organize an Official Technical Site Visit and Presentation of a New International Airport in Siem Reap which is a State backed company. A part from the event management, SAM INSPIRE is also actively coordinating a few Documentary Filming for International Production company and TVs, especially from European countries. One of those is a Travel Documentary production "Verwunschene Tempel und schwimmende Dörfer – Faszinierendes Kambodscha" by a German production company.
Here are the list of our key clients
In parallel with my event business, I have also partnered with Wine Store B2B as well as Luxury F&B Catering service in Cambodia. These partnerships, provide pricing power and flexibility for your Cambodian event needs. Furthermore, I have partnered with my Teambuilding developing partner, Mr. Rolf Graf, founder of BEUNITE in Thailand. 
Personal update
I take this opportunity to share my story of life during the past few difficult years. I hope to bring you encouragement.
After the pandemic began in March 2020, my travel company battled through daily cancellation of group and individual trips. Faced with the inevitability of the crisis I have decided to leave and start a new life adventure. My first survival job involved working in the construction of a friend's Project (The RICE). With no skill or experience and little earnings  it proved difficult due to lockdowns.

As you may know I am the founder of a small charity, All For Kids Organization, known as Angkor Kids Centre, supported primarily by friends in Germany known as Helpucation e.V. These friends knowing my situation generously proposed a job for me to work for AKC and from their own pockets supported me for which I am grateful. I was able to develop the TESOL curriculum and teach a English classes. With the management of the office and classroom now optimised, I continue my teaching my advanced classes in the evening.

I then began a short-term contract, now ended working for the international non-profit organization called Plan International Cambodia. The year was a significant one for my development, formalizing my social and business work with international standards of work and management in social governance, security and logistics procurement.
Within this busy time, I have also completed and certified with a 4-month-long Professional Diploma Digital Marketing online course run by Asia Pacific Institute of Digital Marketing (APIDM). This course helps me with my business as well as allowing me to share my knowledge to the growing generation ready to be taught these skills in Cambodia.

Right after the border reopened, I made my overseas trip to the neighbouring countries, Singapore and Thailand. In Singapore, my trip was hosted by Mr. Tan Peng Ann, the founder of Sangkhoem Khmer organization (SKK), a charity running the school project Ta Keo in eastern Siem Reap. In Singapore, I was invited to join the management committee of SKK. I met also the President of Rotary Club Mount Sophia, Mr. Wong Song Hong. As part of Rotary International's new policy I was offered the role as Asean member. After Singapore, I visited Thailand, invited by Mr. Rolf Graf to see his Tree Planting in a rural village of Surin, Northeast of Thailand. Here we worked on teambuilding, CSR (Corporeal Social Responsibility) and ESG (Environmental Social Governance).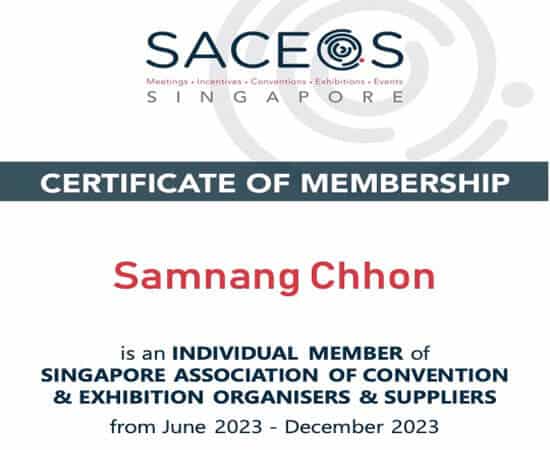 Looking back on these years on what I have experienced and learned, I am refreshed. As a family we learned to take a rest and enjoy what we have. My two children are healthy and happy. My son, Karuna is back to grade 8 and my daughter Meta is entering into her grade 4. They both learn basic English at my free English school, Angkor Kids Centre.

Lastly, I hope that you will keep me in mind for any event, team building, conference, incentive trips or your personal visit to Cambodia, especially to Siem Reap. I will be more than happy to assist or partner with you to prove the best of Siem Reap. Here I would like to make this presentation for you to recall a bit of Cambodia Destination products as following:
– General destination presentation here
– Teambuilding and CSR project here
– Random video on YouTube here
My regards, and best wishes from Angkor, Siem Reap. I hope to hear back from you and am happy to again be able to provide you with opportunities.
Best regards,
Sam,
Sam Chhon (Mr.)
Founder & Project Director
SAM INSPIRE Cambodia
Destination Service Management Company