When talking about Video marketing, YouTube is the number one free platform that comes up first to any marketers. But how to develop your business marketing with videos fast with cost effectiveness. Sam Inspire is here to share some tips and walk you step by step with this YouTube Videos for Business Marketing guide article.
In today business marketing strategy plan, video marketing plays a crucial role to make you stand out from your competitors. To market your business with video is very potential to reach the target audiences organically or in order words free of charge. This made possible is because of the new development of Industry 4.0 age where AI (Artificial Intelligent) is effectively implemented. All big social networks like Facebook, YouTube and other private sources are developing their algorithm to match and link from one similar categories of contents especially Videos to others. From this mechanism, having video contents to promote or link to your business products are the most beneficial ever. After all, when it comes to content marketing, videos register the highest ROI (Return on Investment). No matter what your specific goals behind engaging with video marketing, the exercise is sure to deliver.
Video marketing is well-recognized in marketing circles for its ability to both drive customer engagement and to generate leads for your business. If you still haven't included video marketing into your content marketing plan, it is time for you to do so. Video marketing is only going to scale higher altitudes in the near future and make available a range of marketing benefits for your business. So are you going to wait further and let you competitors start over and win, no way right, then let's go with Sam in this YouTube video marketing kit.
YouTube is an online video platform owned by Google which is already a big company. From 300 to 500 hours of video content were uploaded to YouTube servers every minute with close to 2.5 billion users in the world including creators, viewers, and advertisers. This YouTube growth made it stand as the second biggest social sharing platform after Facebook with close to 3 billion users in 2021.
In the question of is YouTube good to promote business with or is it only a place for creators to monetize and earn money from the AdSense? YouTube is for everyone and free to use, no matter if you are a viewer, creator and an advertiser. AdSense is a gift and thanks from YouTube to those creators who dedicate their spare time and even full time creating contents for the YouTube audiences (viewers) to get entertained, informed and learned.
How to Get Started with YouTube
There are two types of YouTube channel, a Personal Channel and Brand Channel that you can create. What is the differences between the main channel or Personal Channel and Brand Channel and how to create them?
Main Account / Personal YouTube Account is the best if you just want to have a channel for your own and use it all your life with your single Gmail as admin. This means that you can't transfer the ownership of your account to other Gmail accounts unless you change it to Brand Account.
Here are steps to create YouTube Personal Channel:
Go to the YouTube website or app and sign into your Gmail account using your mobile device or computer.
Click or tap your profile image in the top right corner of the screen.
If you're using a desktop computer, click "Create a Channel." On a mobile device, tap "Your Channel."
On a computer, click "Get Started" in the pop-up window, and under the option that says "Use your name," click "Select." On a mobile device, enter your name into the pop-up screen, and tap "Create Channel."
Click "Select" under "Use your name."
Your personal YouTube channel is now created. On the next screen, you can customize various settings for your channel, such as add a profile picture and share your channel. If you'd rather set these up later, scroll to the bottom of the page and select "Set up later."
A Brand Channel or Business Channel is the best for company, organization, brands, or other kinds of corporate account that that allows you to add managers for each channel or completely transfer ownership to other Gmail. You can have more than one Channel under the same Gmail.
Here are steps to create YouTube Brand Channel:
In a desktop web browser, sign into YouTube with the Google account you want to use to create a new channel. Please note this only work for Desktop so you need a computer or switch your mobile view to desktop view.
Click your profile image in the upper right corner of the screen.
In the dropdown menu, click "Create a Channel."
In the pop-up window, select "Get Started."
Under the option that says "Use a custom name," click "Select."
On the next page, enter the brand account name that you want to use, agree to the terms, and click "Save."
Your new channel is now created. You can customize your channel's settings on the next screen.
These are just some basic tips, YouTube may update its products, therefore the only best way is to get yourself handy with it. Try around and make research on YouTube, there are lots of tutorials that you can follow steps by steps.
For either types of YouTube, you need to learn how to do some settings on your Channel brandings as well. Those include Photo Cover / Channel Artwork / YouTube Banner Size (2560 x 1440 pixels) and Profile Picture Size of (800 x 800 px).
How to Grow Your YouTube Channel Fast
Once your YouTube Channel is up and running and contents are already uploaded. It is time to grow it. This is very short in word just Grow Your Channel but it requires work and dedication. The term of growth in YouTube world is to Get YouTube Video VIEWS, YouTube SUBSCRIBERS, YouTube COMMENTS and YouTube video LIKES as many as possible.
For business marketing channel purposes, you might think this is not important as you don't need to monetize your Channel which requires 1000 subscribers and 4000 hours Watch Time. But these factors reflect the image of your business brand, the more followers, views, likes and comments you have the better image your brand is likely to be. So that your customers can trust on your company and product. What's even more important is the YouTube SEO (Search Engine Optimization). The growth of these subscribers, Views, Likes and Comments make the search Engine algorithm feel that your Channel is the best matcher for the searched keyword, geography and demography, so they can send your contents up on the first page which is what all your Online Marketing effort and expectation are all about.
YouTube SEO (Search Engine Optimization), the Top Best Organic Channel Growth
Then how to get subscribers, likes, views and comments for your YouTube Channel? The answer is doing the marketing for it. Having the knowledge of Search Engine Optimization (SEO) is a big plus because every time you are publishing your contents, you already have in mind that your Keywords reach is very important. A little bit about YouTube SEO, Keyword to be everywhere is every important. For example, YouTube Title must have Keyword of the Video, Content Description box must have Keyword of the Video, Hashtag (#) must have Keyword of the Video (please note that 3 Hashtags will appear above the video title) and Tag section must have Keyword of the Video and other relevant keywords.
Furthermore, it is also very useful to have YouTube Video Chapters for a long video with different sections. This YouTube Chapter is good for Viewers to jump to where they want to watch. This Chapter is also very SEO friendly stuff. Instead of just optimize the title and keyword, the the different section with description will point Search Engine to those sections. On mobile App, there is a separate section to just feature the Chapter section and description.
How to setup the YouTube Video Chapters? It very easy. You just need to understand what your video content is about and what are different sections about. In the description box, just put the time code to that section with description of what happening in that time code. Please make sure you start with 0:00 example the trip begin…then 0:40 the stop for coffee…. Let's look at one of Sam Inspire Angkor Channel as a lesson.
By the way, bear in mind that you can already showcase your company profile on the description box, but don't mislead what you video is about. You can mention other channel in the Title and Description box to promote other channels as well by just using the (@sam-inspire). And yes, placing the url of your business or other website that you want are also possible but just make sure that you include the initials of (HTTPS://) example https://www.sam-inspire.com/ otherwise, your links are not clickable, so it is no use.
If you want to go deep into this YouTube Marketing master and be a YouTube expert please take a tours at TubeBuddy.com through introductory video. If you are interested in their services, or for the future, it will be very kind of you to click on this Affiliate Link, you lost nothing but Sam will earn a bit, but no pressure 😉
Learn more about Yoube Buddy visit here https://www.tubebuddy.com/saminspire
Shortcuts to Grow YouTube Channel Fast
Nevertheless, how to get started and see your Channel is already get growing faster than the above. No worry there is a shortcut but yet this is not the best way to be sustainable and optimized. But it is 90% working well especially for YouTube beginners.
First, invite all your contacts, employee, employers, families, friends to subscribe, like, comments. Secondly use the YouTube Network Service Website to grow your Channel. There are many websites that provide this networking services for free at your own phase and upgrade to go at your own speed. Here are some of those that Sam Inspire Angkor experience to Develop YouTube Videos for Business Marketing of his Channel successfully.
Goviral.ai, the Master of Free YouTube Subscribers, Views, Likes, Comments
The number one website that you could get all in one except for Watchtime that I have experienced is Goviral.ai. I could give a review to Goviral.ai that this is the best and most reliable YouTube growth networking website ever. What is even more special Goviral.ai, it is 100% free website as of 2021, and yes with an upgrade to monthly fees, but their free tools are already best to get all you need which is Subscribers, Views, Likes, Comments on your videos. As for the Area For Improvement (AFI) of Goviral.ai is only the numbers of users are still limited due to the age of this company was just from 2019, but it is definitely growing fast with its unique products.
The member portal is very easy to use. After signing up and logging in. What you need to do is just click on the Earn Coins on the Left menu. Once you earn good number of Coins like a 1000, then just Import your videos up to 5 videos and set your Target like how many views, likes, subscribers, and comments you want in consistence with power of coins you can buy.
---
SubPals.com, Eventual YouTube Subscribers Growth
The second best but only for getting free Subscribers when comparing with Goviral.ai is SubPals.com. SubPals.com offer 10 free YouTube subscribers for every 12 hours in between every section. However, you can upgrade to get more and fast with affordable rate. Please sign up to try and get used to the SubPals.com platform.
After signing up and login to your account, you just need to Click on the Activate Now button. Then just click to Like and Subscribe to 20 channels on the network. You are good to get 10 subscribers in return super fast. Do this way in every 12 hours for a single Channel. If you more channel and do with with others. If you don't want to do it and let the SubPals.com website do all the tasks for you, just upgrade to the next plans from 20$ per month to 80$ per month depending on your need. For my suggestion, no need to go too fast, the 20$ should be the best plan for beginners. As the most important and in a big hustle is getting the 4000 hours Watch Time is a challenge, but again there is a solution. Let's move on to the next solution.
---
QQTUBE.com, the Only Most Affordable YouTube Watch-Time Provider
Getting 4000 hours watch time within 12 months that YouTube requires to get monetized is not a kid's game. Yes, it used to be easy by just watching your own video but that is not happening anymore. You can still do but maybe one or two video got counted. Therefore and only applied to those YouTubers who targets to monetize their Channel with YouTube Partner Program that should invest on this. There are many solutions that people suggest but I don't think it is realistic for every market niche. Therefore, here is a website that you can buy the YouTube Watch time from. That is QQTUBE.com.
This QQTUBE is almost the only cheap and reliable provider of the YouTube Watchtime that I have found. Every 1000 hours is only 20$ and each day you can expect around 300 hours. To use their service, you need to have at least one video with a length of minimum one-hour long. First, they ask to deposit fund into your QQTUBE.com account, then you can start making order of your service need. Your fund has to be exactly the same amount as the service cost or higher. To make deposit by credit card is at zero fees, you get the amount deducted from you card. Furthermore, QQTUBE.com has many other service that you purchase as well. And yes, you will get some free service to try.
Important Notice: Buying view from QQTube is not reliable. We learn that YouTube drop it all.
---
Believe we have covered most the difficult points that new YouTube creators find it hard to find anywhere. Hope this helps you to grow. But as a last advice this is not the best option, YouTube has recently strengthened its policies to make creators' lives harder. And even the hardest like for the poor Cambodia, YouTube has suspended Cambodian for its Advertisement target, so viewers from Cambodia can not see ads.
YouTube Suspended Ads Showing on its Videos in Cambodia?
In my opinion, Cambodia is not on the official monetized list of YouTube since then and ever before. YouTube just reinforced its ads network target recently when tax has been also reinforced in the United States of America. Due to the complicated solution and deal, YouTube may decide stop all ads showing in unlisted countries worldwide.
This YouTube Ads Revolution doesn't affect AdSense Account, this means that any Google partners can still work with Google to earn their revenues such as mobile Apps and website Blogs.
The questions of can advertisers from Cambodia still be able to advertise on YouTube and target the audience in Cambodia? The answer is Yes, Sam did try and Cambodia is on the advertising list 😂 but he doesn't know where this ads will be shown on and at? Normally, video ads could show on other Google Video Display Network such as Mobile Apps and Blog Sites but Sam already targeted specifically to YouTube only.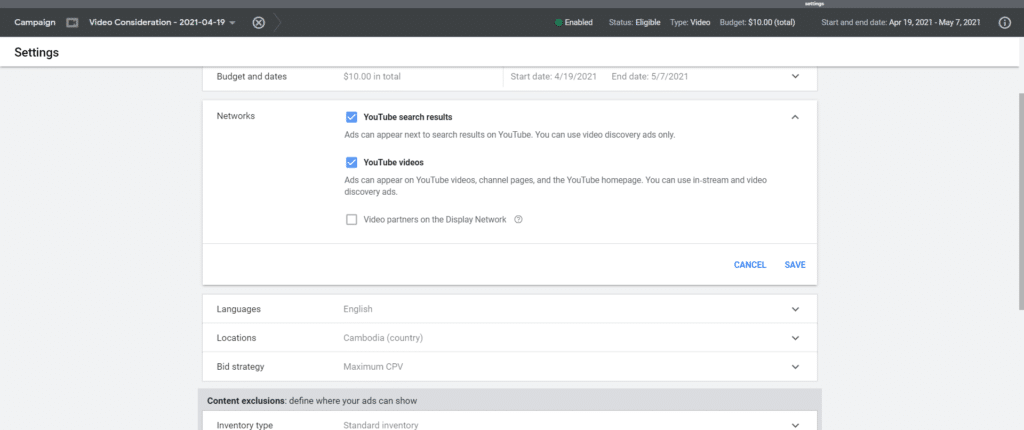 From this experiment, we could be assure that the advertisers can still do the campaign without any problems but it will not reach anyone. Google will not charge the advertisers of anything.
My recommendation, I think if all the powerful YouTubers try to raise voice especially to our government to make official requests to list Cambodia on YouTube Partner Program. Then, it will be good. If not, just retarget the audiences to overseas especially to the high ads revenue like US, Europe,…. Or the worse thing, groups of YouTubers support each other by using VPNs to watch one another channels. Or using some YouTube network website to boost the views like Goviral.ai. Yes, it is risky, but if we don't take risk we are staying on the zero line. Like our emperor of voice Sin Sisamut song says "if I stay I die, if I go I may alive." And other solution is looking for manual advertisers by yourselves. Don't be down, the brightest stars are in the darkest night.
---
Note: This article is for information purpose only, no liability will be taken for legal or official reference. Revisions could be done at the author's discretion. And some links in this article are Affiliate links, it will have the author's life if you purchase anything by clicking from these links.
SAM INSPIRE family hopes you find this information useful to your research. This article is the reflection of Mr. Sam's findings with zero political touch. If you need further support, please feel free to contact Sam, he will be so happy to do more steps to help you out.
Thanks for being part of Sam's journey, Sam Inspire – Cambodia Travel and Event Blogger – the Power of 3 E's, Energize, Educate, Empower.