Beyond Angkor temples, the amazing Siem Reap in Cambodia is the most popular cultural travel destination in South East Asia. What makes Siem Reap special is the countless human inheritances of over 1000 (one thousand) temples and ancient sites. Some of them have officially listed while many are undergoing. In this article Sam Inspire will give his personal insights on a special and less known temple of Chrey Temple (ប្រាសាទជ្រៃ). This temple is the largest Beng Mealea neighboring temples, while the rest like Kong Pluke, Trung Lolok and more.
By the name itself in Khmer language, Chrey is a name of Banyan family tree. It's just that Chrey has smaller heart-shape-leave size and Banyan in Khmer called Por​​ ​(ពោធិ៍) has larger leaves. Most temples named by how it looks some significant reference or support like trees and how it was found or who took care of them. Therefore, this temple could be named by the existence of Chrey tree in the complex.
Chrey Temple is located East of Beng Mealea temple around one Kilometer or two depending from which point it is measured. However, this temple is not popular, even some tour-guides do not know that this Chrey temple is existing.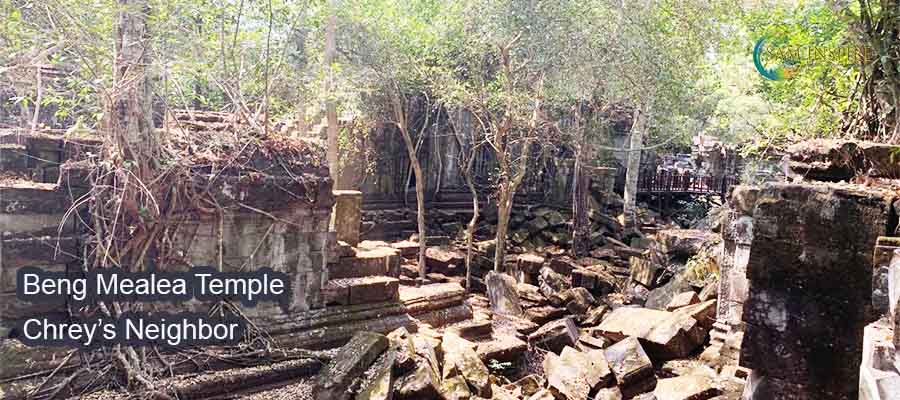 Chrey temple too has not been given a clear fact yet. It is still on some controversial talk from the archaeological experts in its history. Some experts say Chrey temple built by a glorious King, Jayavarman VII (1181-1220) to be used as a hospital or medical center. This makes sense because Chrey temple was built along the ancient road called Beng Road built in the reign of King Jayavarman 7 from Angkor temples in Siem Reap to Preah Khan Kongpong Svay in Preah Vihear province. However, if we ask why it does not belong to King Suryavarman II (1113-1145/49/50 C.E.) who built Beng Mealea and Angkor Wat temple because Chrey temple is so close to Beng Mealea temple. Mr. You Khemarak, a professional trilingual speaking tourguide commented that our ancestors only built temples or any sacrificial sites if they had learned that those spots had any special spirits. Same for Chrey temple, it must have been some foundation left from the hand of King Suryavarman II, then Jayavarman VII just continued building a greater site. So there is really no certainties, if all belong to which king. Mr. You Khemarak is a French, English and Spanish speaking national tourguide.
With Sam and his family recent visit, Sam Inspire Angkor YouTube Channel would like to feature the Virtual Tours of this Chrey temple in-depth as in this YouTube video.
This video about the unknown Chrey Temple, the neighboring temple of Beng Mealea as part of Angkor Temple, located 60+ km East of Siem Reap in Cambodia. This video one of many more episodes that Sam and his family creating to feature Virtual Cambodia Tours of Angkor temples and its surroundings during this Coronavirus Pandemic.
Beng Mealea, he Parenting Temple of Chrey Temple Zone
Built on a flat land of 0.14 km2 (14 hectares), Beng Mealea located in Beng Mealea village, Beng Mealea Commune, Svay Leu District, Siem Reap province, Kingdom of Cambodia. Beng Mealea is 60+ km East of Siem Reap town center. This temple counted among the least visited temples in Siem Reap. This counting is possible due its location is a bit out from other 200+ Angkor temples and over 1000 temples just in a single Siem Reap province.
Beng Mealea was built in the early 12th century in the reign of King Suryavarman II (1113-1150) who built the most famous Angkor Wat temple, Chau Say Tevoda,  Banteay Samre temples, and another one presently located in Thailand called Phnom Rung and could be more.
Sam Inspire Angkor YouTube Channel brings you with a Virtual Tours over Beng Mealea temple as well. Please enjoy!
Please enjoy Cambodia while you are at home. Come back frequently or Subscribe to the Channel and get alerted.
---
Note: This article is for information purpose only, no liability will be taken for legal or official reference. Revisions could be done at the author's discretion.
SAM INSPIRE family hopes you find this information useful to your research. This article is the reflection of Mr. Sam's findings. If you need further support, please feel free to contact Sam, he will be so happy to do more steps to help you out.
If you find value in this article and wish to support Sam to do more, please feel free to pay him a coffee to his bank below. Thanks for being part of Sam's journey, Sam Inspire – Cambodia Travel and Event Blogger – the Power of 3 E's, Energize, Educate, Empower.