Insurances for Tour Operator or DMC in Cambodia
Does Tour Operator (TO) or Destination Management Company DMC) in Cambodia really require Insurance to register their business in Cambodia? Legally and locally the answer is "NOT REALLY". TO / DMC doesn't really need any types of insurance to register their Tour Operator business legally with all the relevant ministries such as Ministry of Commerce, Ministry of Tourism, Ministry of Economy and Finance and Ministry of Labour and Vocational Training. However, DMCs / Tour Operators do require some types of insurance policies to be successful and safe in their daily operation of their business activities.
If you have read other article on Sam Inspire blog (DMC vs Tour Destination Operator & Travel Agent), you must have seen what services Tour Operators, Destination Management Companies and Travel Agencies are offering. These broader ranges of services, not just tours, transportation, flight ticket, and accommodation. They include special event venues, AV production, 100% crafted itinerary, scenic flight, shooting range and event manager to support them the whole trip from planning to closing report and so much more.
Therefore, TO/DMC are facing with varied risks on every second from those activities offered. Some tour operators are offering even life risking adventurous activities. Therefore, appropriate types and coverages of insurances are crucial to protect themselves from the claim. Furthermore, not all tourist customers are nice. Some are traveling to make problem or steering at any small gaps that Service Providers misconduct so that they could report to their agency or their travel insurance provider and even the travel claim lawyers to make claims. Then they could get something compensated or even the whole trip cost for free. As local provider (Tour Operator / DMC), how much is their margin competitively? How much is their risk capital reserving plan? Not much right, and no one wish to pay for that right? That is why Insurance is very important to have to be on the safer sides.
Most important point ever is about TO's / DMC's overseas partners. Insurances for most developed countries are very important to them. Before decided to work with any local DMCs and Tour Operators, they must have observed and inspected whether these DMCs and TOs hold any insurance or appropriate insurance. It is true that some tour companies might be lucky to have trusted and good partners that they are not serious on this but not all. If they don't have this already published on your public site like website, offline display, or even attached on the email communication, they would definitely have lost some businesses or partners already even before those contacted them for the very first time. You may be interested in reading this Create 2021 Pro Website in 5 Steps – WP Tutorials article as well
What Types of Insurance, Tour Operator / DMC Really Need?
This article is specific to DMCs and Tour Operators operated in Cambodia only. The very basic and most important type of Insurance that TO and DMC should acquire is general Public Liability Insurance (PUL). PUL is considered to be mandatory for most overseas partners. Without PUL insurance held by tours service providers, many trade associations, and Online Travel Agents like TripAdvisor appointed Viator.com, Expedia.com etc. ban membership, which impact the Corporate Clients and your online membership registration to decline in using and partnering with the local DMC / TO companies.
For DMCs and Tour Operators, general public liability insurance protects the companies against third party claims arising from bodily injury, property damage and personal injury resulting from premises, operations and/or products and completed operations (but not on road car accident). PUL Insurance further covers legal costs that arise from defending your company against any of these third-party claims. In Cambodia, Public Liability Insurance should cost around USD 900 per year including Limit of Indemnity is USD 50,000.00 (fifty thousand US. Dollars) maximum per every case during the insured period of time whish is a very standard one. This is just an example, TO/DMC should consult with their insurance brokers for the suitable coverage.
Would Public Liability Insurance be the only type of insurance needed to operate safely and successfully? No, not yet, but DMC and Tour Operator are good to go and build trust with their partners. Please again note that normal PUL doesn't include the accidences happened in the transportation especially car and coach while driving.
Therefore, as DMCs / Tour Operators which mostly contract the fleets from other transportation companies or individuals have to make sure that the transport owners hold appropriate type insurance for those vehicles to cover the thirty party liability. For Cambodia context this insurance type called Automobile Insurance as an example from Forte Insurance. This company has the Third Party Liability coverage protects vehicle owners who cause bodily injury to others or damage their car or other property while driving. The insureds are also entitled up to $1,500 for the cost of legal fees, according to their website.
Furthermore, in the context of Covid-19 pandemic, foreign travelers are required to have Covid-19 Insurance Policy coverage issued by local Insurance company as part of all requirement to be eligible to enter Cambodia. This insurance, travelers can apply, pay and get online directly on Forte Insurance website. This Covid-19 insurance is the additional insurance to be added to the bespoke and common Travel Insurance that every traveler should buy from their home country at a few dollars per day.
Here is a bit of Cambodia Travel Restriction During this Covid-19 Pandemic issued before the Coronavirus 20th Community Transmission.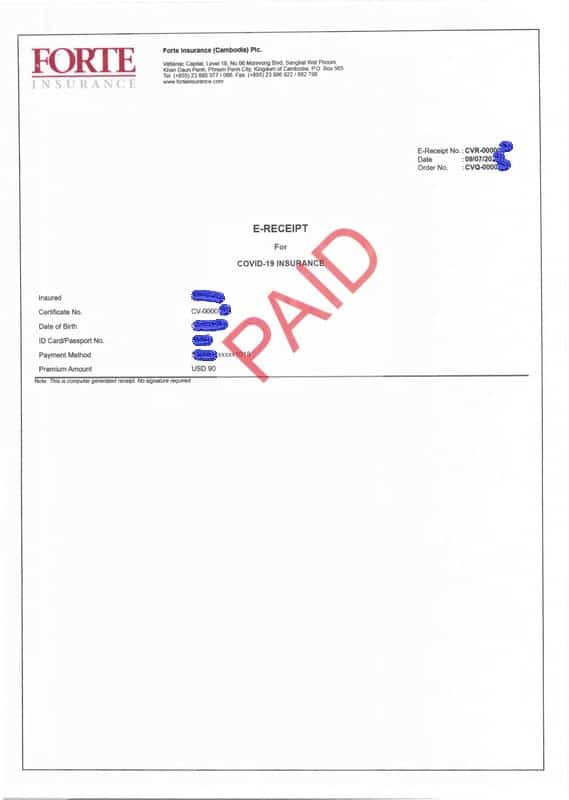 According to the information imposed by the Ministry of Foreign Affairs and International Cooperation on Covid-19 combating. Travel Restrictions To and From Cambodia are as following: As of 20th May 2020, the Royal Government of Cambodia has mandated a 14-day quarantine for all passengers, both Cambodian and foreign nationals, for entry into Cambodia.Upon arrival in the Kingdom of Cambodia, all passengers must undergo a thermal scanning. They must present their health insurance voucher with the minimum medical coverage of 50,000USD (fifty thousand US dollars) or purchase a health insurance package for Covid-19 treatment, with a cost of 90USD (ninety US dollars) that is valid for 20days. This insurance package can be purchased from FORTE Insurance Company. Then they must make a deposit (by cash or credit card) of 2,000USD (two thousand US dollars) with a designated commercial bank at point of entry. The deposit will be deducted for payment of any services during the implementation of health insurance. Then passengers will be accompanied to designated holding center for Covid-19 testing, and wait up to 24 hours for their results before being allowed to enter the country.
The above restrictions would be revised after the 20th February Transmission ended and if any Travel Bubbles are made with other countries. More information and update from the Inter-Ministerial Committee to combat Covid-19, please keep Checking MFAIC page: https://www.mfaic.gov.kh/covid-19
After having these three foremost important types of insurances covered for their company and sub-contracted service providers and the customers; the Travel and Tour Companies are perfect to go.
The Best Insurance Company in Cambodia for Tour Operator /DMC?
Every company has its strength, specialty and power of relationship. This article section here about the best insurance company in Cambodia only reflexes to Sam's experience as user to several insurance companies in Cambodia. There is not even a single cents or benefit he got from writing this comment. It takes no responsibility to your and others' experience or opinions.
Before answering which insurance in Cambodia is the top best one. Firstly, let ask ourselves the following questions in related to Travel, Tour, and Event?
Which insurance company could offer the Covid-19 Insurance policy in Cambodia?
Which insurance company could issue the Public Liability Insurance policy specific to Tour Operator / Destination Management Company in Cambodia?
Which insurance company could customize to sell Inbound Travel Insurance policy for foreign travellers?
These questions are not easy to get answers, we need some background knowledge and experiences. Therefore, Sam values the insurance companies that could answer these questions with YES responses the most. Then which one?
To Sam's experience, FORTE INSURANCE company has all the YES answers. With Mr. Venda Chen as Sam's contact. Sam could get the policies of Public Liability Insurance as part of their extensive Corporate Insurance Policies, Inbound Travel Insurance, and Cambodia Entry Covid-19 Insurance. Therefore, the best insurance company in Cambodia is Forte Insurance to Sam's findings and experiences. Forte Insurance company has the most extensive insurance services. It does have also a Life Insurance service in their other business.
How about you, what is your best experience in using insurance in Cambodia? Leave your thoughts in the comments.
Are You Prepared to Reoperate your Tour Operator and DMC Again?
Sam Inspire hope this article helps individuals and companies to be fully and professionally reoperate their tour operators and DMCs again after the Covid-19 pandemic ended. In our earlier article about the Government Roadmap and Tourism Development Plan. In which, Cambodia would welcome the international fully Covid-19 vaccinated tourists to Siem Reap, Angkor in the fourth quarter of 2021. From this good news and hopes for a successful lifting, Tour Operator and DMC should already get back to their chairs and plan what needed to be done to merge themselves in the market in this new business norms.
If you are in the Teambuilding and Event Management Business, you may read this article about Teambuilding Event Management Skills
---
Believe we have covered most the difficult points that new TOUR OPERATOR / DMC find it hard to find anywhere. Hope this helps you to run your business successfully.
Note: This article is for information purpose only, no liability will be taken for legal or official reference. Revisions could be done at the author's discretion.
SAM INSPIRE family hopes you find this information useful to your research. This article is the reflection of Mr. Sam's findings with zero political touch. If you need further support, please feel free to contact Sam, he will be so happy to do more steps to help you out.
If you find value in this article and wish to support Sam to do more, please feel free to pay him a coffee to his bank below. Thanks for being part of Sam's journey, Sam Inspire – Cambodia Travel and Event Blogger – the Power of 3 E's, Energize, Educate, Empower.