Beyond Airport Transfer: Premium Private Airport Transfer Service at new Siem Reap Angkor International Airport
When it comes to exploring a new destination, having a reliable and knowledgeable guide and driver can make all the difference. That's why we are thrilled to introduce our exclusive offering – Private Airport Transfer Service with a Professional Angkor Tour Guide at New Siem Reap Angkor International Airport (SAI).
SAI is the new airport code for Siem Reap Angkor International Airport which formerly called REP for Siem Reap International Airport / Angkor International Airport which suspended its operation from the night of mid night of 15th October 2023 stepping on to the 16th October 2023. While the full airport management switched to the new airport of SAI located 60 km from the historical town center of Siem Reap province.
SAM INSPIRE as the only official event management company located in Siem Reap has proudly run two successful and productive event for them. You may have a look of the airport event highlights hereunder:
| | |
| --- | --- |
| Before Opening – Technical Site Visit & Project Introduction to Siem Reap Angkor International Airport (SAI) | PreOpening – Ceremony on Welcoming the 1st Commercial Flight to Siem Reap Angkor International Airport (SAI) |
| Click here to Watch | Click here to Watch |
Arriving at a new airport can often feel overwhelming, but with our private airport transfer service, your worries will fade away as soon as you step foot off the plane. Our friendly and experienced welcome service guide and drivers will be there to greet you, taking care of all your transportation and logistic needs while ensuring a smooth and comfortable journey.
But we don't stop there – our unique service includes the expertise of a professional Angkor tour guide. As you travel from the airport to your destination in Siem Reap town center, your guide will provide fascinating insights into the history, culture, and hidden gems of Siem Reap, Angkor. They will tailor the experience to your interests, making your journey not only convenient but also educational, inspiring and enriching.
With our professional Angkor tour guide by your side, you'll be able to discover the extraordinary wonders of this ancient city in a way that is both immersive and authentic. From the early Ankgorian city of Kulen Mountain and Beng Mealea located just on the way from the airport to the awe-inspiring Angkor Wat to the intricate carvings of Bayon Temple, your guide will bring these ancient marvels to life, sharing stories and legends that will deepen your appreciation for this remarkable UNESCO World Heritage sites.
Our commitment to exceptional service extends beyond transportation and guiding. We understand that comfort and safety are paramount. That's why we have a fleet of well-maintained vehicles ensured with insurance that offer ample space and modern amenities to ensure a relaxing and enjoyable ride. Whether you're traveling solo or with a group, we have the perfect vehicle to accommodate your needs.
Moreover, our private airport transfer service with a professional Angkor tour guide saves you valuable time. Our drivers are well-versed in the local area, utilizing the most efficient routes to get you to your destination promptly. Meanwhile, your guide will make the most of your journey, highlighting key points of interest along the way.
In addition to our commitment to excellent service, we offer competitive airport transfer packaging pricing. With no hidden fees or surprises, you can trust that our rates are affordable and offer great value for money. We believe that quality transportation should be accessible to all, and we strive to make our service as cost-effective as possible. Here is the comparation between the Airport Shuttle Bus services, Airport Taxi Association Service and our Premium Private Airport Transfer Services.
Descriptions
1-2 pax
3-4 pax
Remarks
Shuttle bus service by SAI
USD 8
USD 8
Price per person, they use bus and minibus.
Airport to Town: 08:00, 11:00, 13:30, 16:30
Town to Airport: 09:30, 12:30, 16:00, 20:00
Airport Taxi Association
USD 35
USD 40
Price per vehicle, vehicle is flexible could be van or sedan
SAM INSPIRE Premium Service
USD 80
USD 90
Price per vehicle including SUV / Hyandai Van, water on board, welcome signboard, welcomed and escort by professional English speaking tour guide.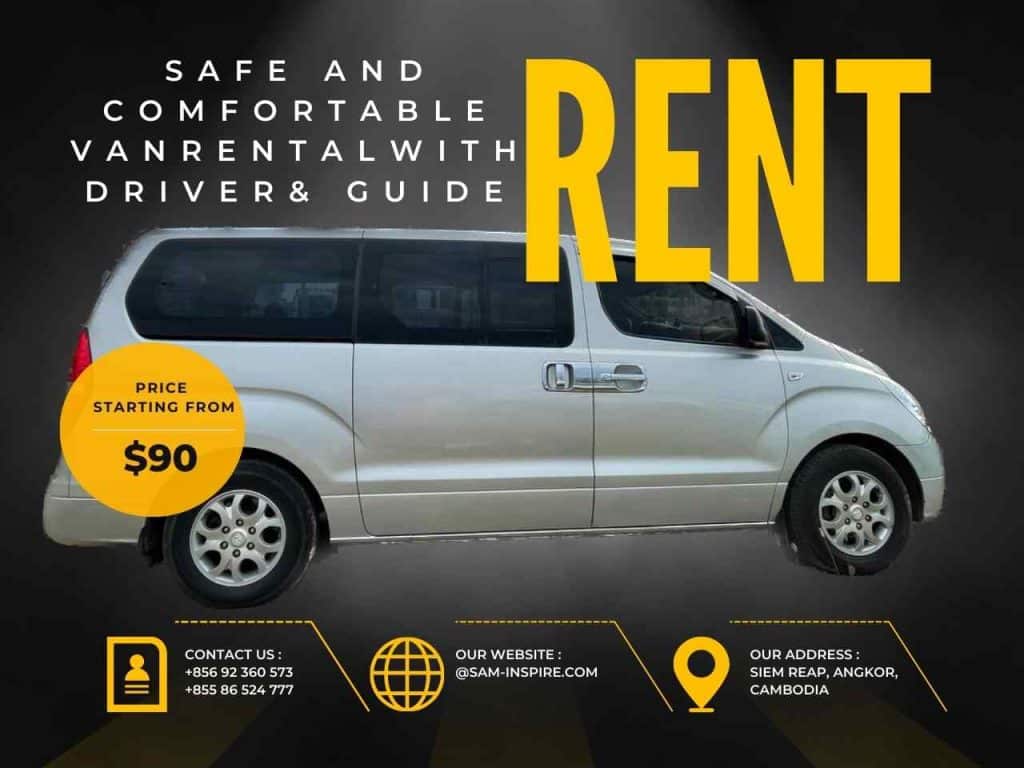 We also prioritize convenience and flexibility. Our services are available 24/7, ensuring that no matter what time you arrive, we'll be there to welcome you. Additionally, we offer customized tour packages, allowing you to design an itinerary that suits your preferences and interests. Whether you want to explore the iconic temples or venture off the beaten path to discover lesser-known treasures, tour tour planning experts and  our professional Angkor tour guide will inherit a memorable experience just for you.
Embarking on a journey to Siem Reap is an opportunity to immerse yourself in a rich cultural tapestry and witness unparalleled architectural wonders. With our private airport transfer service and professional Angkor tour guide, your trip will be elevated to another level. Say goodbye to stress and uncertainty, and let us handle the logistics while you focus on creating unforgettable memories.
Book your private airport transfer service with a professional Angkor tour guide today and embark on a truly immersive and enriching experience in Siem Reap. Trust us to deliver outstanding service, exceptional knowledge, and utmost comfort, ensuring a journey that exceeds your expectations from start to finish.
Get ready to explore the wonders of Angkor with confidence and ease – your adventure awaits! Get first premium impression to Siem Reap destination with our airport transfer services.
Get Beyond, Consult our experts now!