Where Angkor Wat and other Angkor Temples Located
Table of Contents: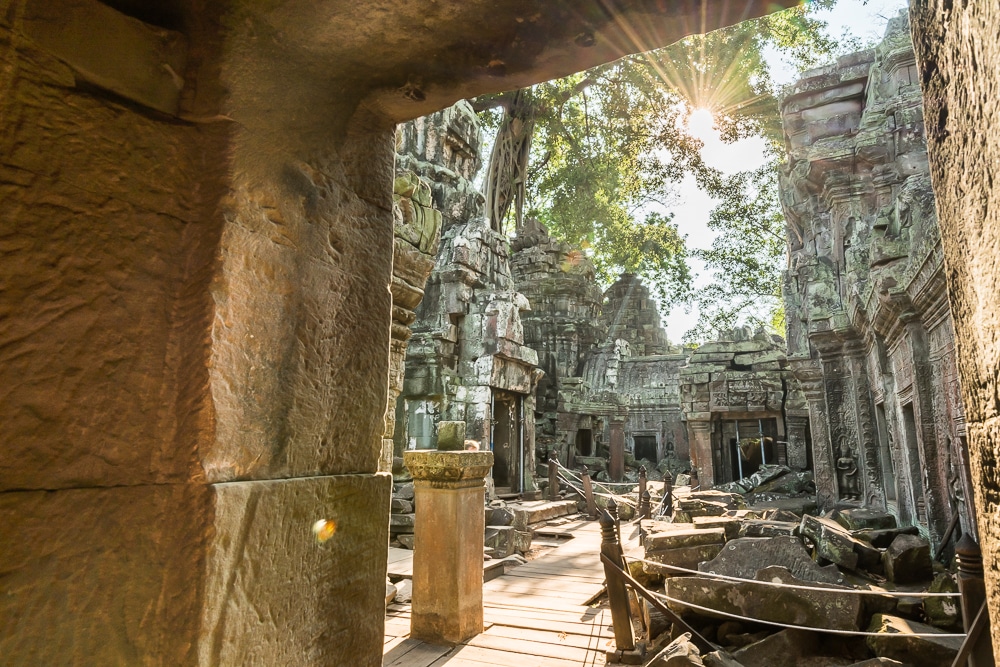 Introduction to the location of Angkor Wat and its surrounding temples
Angkor Wat is just a single temple while most people refer Angkor Wat to the group of temples located in the Angkor archaeological site. Angkor Wat is a renowned temple and architectural marvel located in the province of Siem Reap, Kingdom of Cambodia. This iconic temple is a symbol of Cambodia's rich history and attracts millions of tourists each year.
This article, SAM INSPIRE Cambodia, a Destination Service Management Company specializing in Event and Travel Planning located in Siem Reap, gateway to Angkor temples, is giving an insightful information of the locations of Angkor temples and other must know travel information before you make your visit to Angkor temples.
The Location of Angkor Wat and other Angkor temples:
Angkor Wat is one of Angkor temples located within the Angkor Archaeological Park, which spans an area of approximately 400 square kilometers. The temple itself sits on a raised platform surrounded by a moat, adding to its grandeur and allure. Situated on the rich historical province of Siem Reap which is a main tourist city in the Kingdom of Cambodia.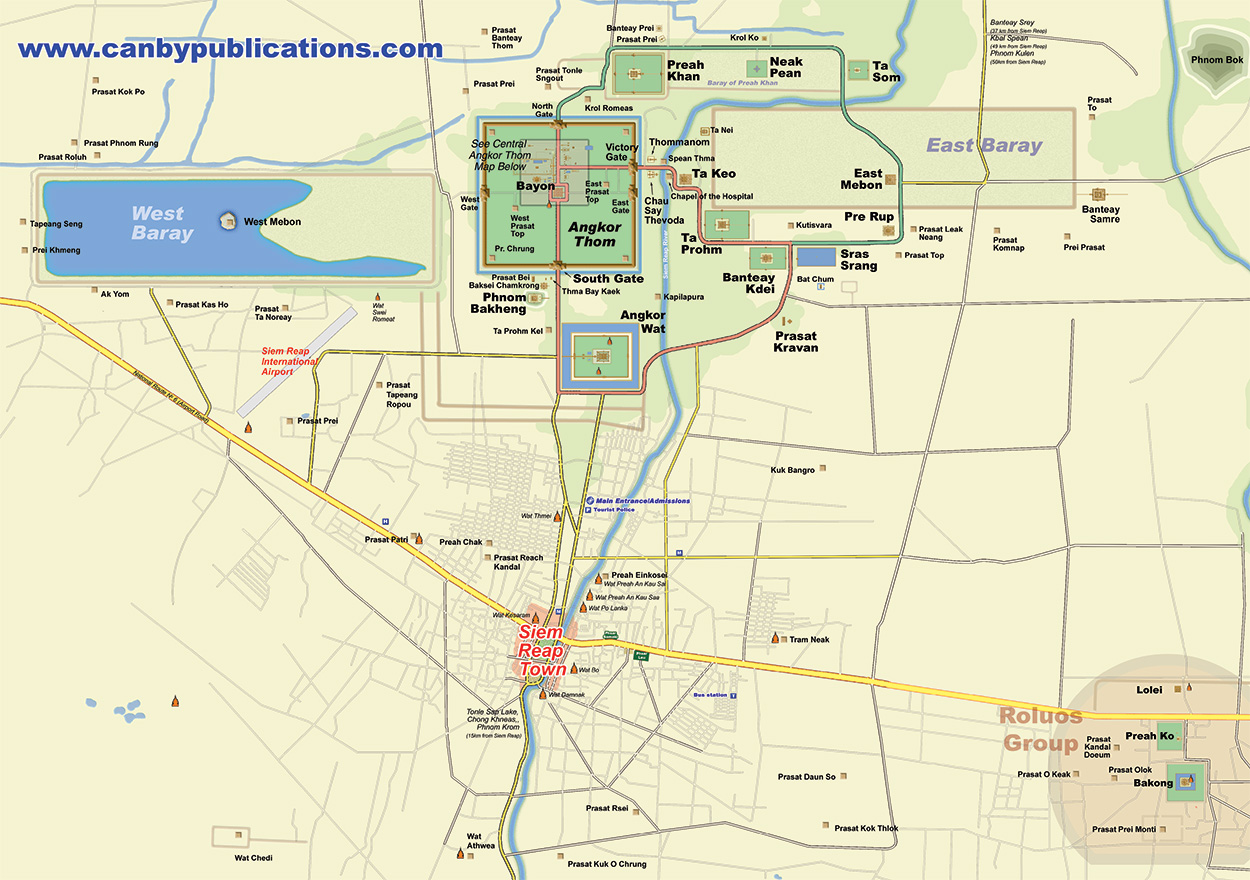 Siem Reap: The Gateway to Angkor Wat temple:
The city of Siem Reap located on the North-western part of the Cambodia close to Thailand with a distance of 314 km around 6 hours drive from the capital city of Phnom Penh. Siem Reap serves as the primary entrance point for visitors to explore Angkor Wat and many other archaeological site as well as natural inhabitants. Situated just a few kilometers away from the Angkor Archaeological Park, Siem Reap offers a range of amenities and accommodations to cater to the needs of tourists.
Beyond Angkor temples, Siem Reap is accessible to natural biodiversity of Tonle Sap home to hundreds of floating villages around it. Specifically, Siem Reap connected to four villages which has the facilities to welcome tourists. Those floating villages are: Me Cha Rai (Mechrey) floating village, the most authentic one and least touristic one. Kompong Khaing, the a village combined with houses on high stilts and floating houses. Kompong Phluke, most of the houses here are are built on super high stilts. It has a huge and nice mangrove forests. And the last one and the closest one to town of Siem Reap is Chong Khneas floating village. This village is the most popular one for tourists which is a bit over populated.
Siem Reap also has mountainous area of Kulen mountain range with mount Kulen which was the early city of Angkor empire. At this Kulen Mountain, visitors can enjoy the nice Waterfalls and many historical sites and things.
Cambodia: History and Geography
Cambodia, officially knows as the Kingdom of Cambodia, is a country located in the Southern portion of the Indochina Peninsula in Southeast Asia. It is bordered with Thailand to the Northwest, Laos to the Northeast, Vietnam to the East, and the Gulf of Thailand to the Southwest with an area of 181,035 square kilometers. The Kingdom of Cambodia was part of the ancient kingdom of Funan. Today it comprises four cities (the capital, Phnom Penh, plus Pailin, Sihanoukville and Kep) and 21 provinces.
The Mekong River, which flows through the country, and the Tonle Sap (Great Lake) are the lifeline of the people who live along the waterways. The Tonle Sap is one of the richest sources of freshwater fish in the world. There are three main mountain ranges, namely the Cardamom mountains in the South West, the Dangkrek mountains in the North and the Annamite mountains in the North East.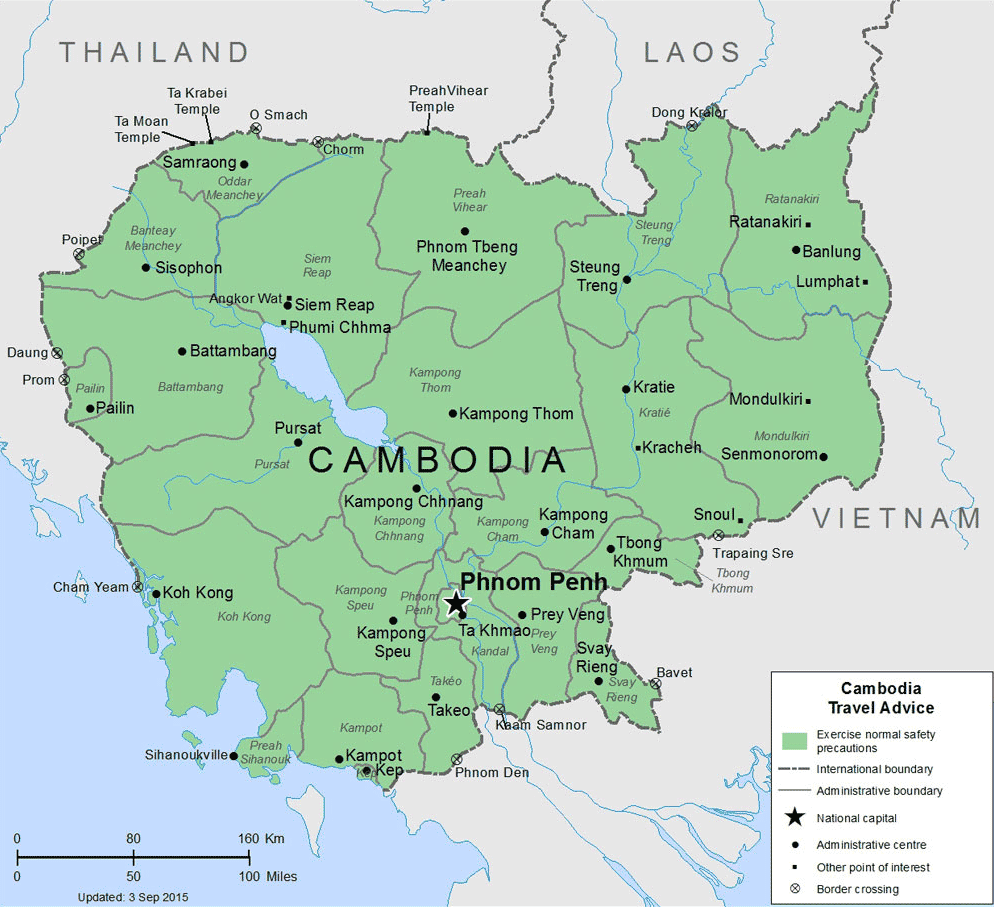 More information about Cambodia Fact
Angkor Archaeological Park: A UNESCO World Heritage Site:
Designated as a UNESCO World Heritage Site in 1992, the Angkor Archaeological Park is home to numerous temples, including the famous Angkor Wat temple, Ta Prohm, the Jungle and Tomb Raider temple, and Bayon, the 4-gigantic faces temple in Angkor Thom temple group. This vast complex showcases the remnants of the ancient Khmer civilization, displaying incredible architectural mastery and cultural significance.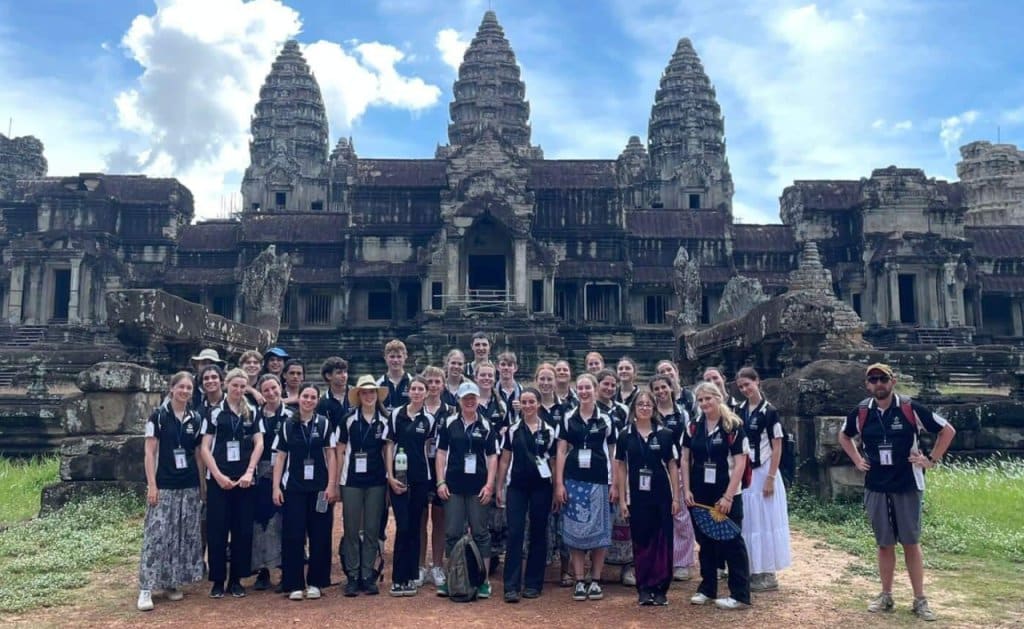 The Distances to Angkor Wat temple from Siem Reap town center:
For those who are planning a visit to Angkor Wat and other temples in the Angkor Archaeological complex, it is helpful to be aware of the approximate distances to the temples. From the new Siem Reap Angkor International Airport is approximately 60 kilometers away, while the city center of Siem Reap is roughly 5 kilometers away from the temple complex only. Furthermore, you can either take flight from Phnom Penh which only take less than an hour and around 6 hours by car with a distance of 320 km.
Getting to Angkor Wat and other temples around Angkor Wat:
To reach Angkor Wat, visitors can hire a Khmer traditional tuk-tuk which is the most common mode of transportation in Cambodia for backpackers, or take a taxi. Alternatively, Grab taxi Tuk Tuk, bicycles and motorbikes are available for rent, providing an enjoyable and flexible way to explore the area. And at each temple, there are many awaited local Tuk Tuks to serve you for shuttling around the temple complex. However, some already have their customers, but never hesitate to ask for help, because they have their contacts and friends around to drive you. However, arrange a proper transportation in whichever forms from the travel and event planner is the safest way to do. Local DMC or event planner will use the vehicle with insurance, and the drivers are professional in their career.
Exploring Angkor Wat and other temples around Angkor Wat:
Exploring Angkor Wat temple alone can take up to three hours or 1.5 hours if you are in a rush. To include other must visit temple like Angkor Thom temple group (Bayon, Baphuon, Phimeanakas, Elephant Terrace, Terrance of Lepper King and more), Thoamanon, Chau Say Tevada, Ta Keo, Ta Nei, Ta Prohm temples, it will take an entire day or four hours in a rush. The temples are impressively large, featuring intricate carvings, temple towers, and stunning galleries. Visitors can walk through the complex, climb to the upper levels, and admire the breathtaking views of the surrounding area. With your tour guide, you will learn many epic stories from the temple gallery themselves and from the tour guides who live here for years. Therefore, you get to know from the myths to facts.
Tips for Visiting Angkor Wat and the Angkor Archaeological Park
When visiting Angkor Wat, it is essential to stay hydrated, wear comfortable clothing and sturdy shoes, and apply sunscreen due to the hot weather. It's also advisable to bring a hat, sunglasses, and insect repellent for added comfort. Additionally, respecting the sacred nature of the temple and following any guidelines or rules set by the authorities are crucial for a meaningful and responsible visit.
Rules for Visiting Angkor Temples: Angkor Visitor Code of Conduct
What Need to Know before Visiting Angkor Temples with these 7 top Angkor Visitor Code of Conduct (ក្រមប្រតិបត្តិអង្គរ).
To enhance your tour experience and to preserve all Angkor temples for generations to come, we kindly urge you to observe the following points:
1- Dress Code
Revealing clothes such as shorts and skirts above the knees and showing bare shoulders are prohibited in sacred places. Respectful dress is strongly encouraged in Angkor.
2- Monuments
Touching carvings, sitting on fragile structures, leaning on temple structures, moving or taking archaeological artifacts and graffiti are strictly prohibited.
Backpacks, umbrellas with sharp tips, tripods and high heels are discouraged from being brought or worn inside the temples.
3- Sacred Sites
As Angkor is a sacred site, loud conversation and noise and other inappropriate behaviour in Cambodian culture is considered to be offensive and may disturb other visitors. Please keep calm and be respectful.
4- Restricted Areas
For your own safety and for the conservation of Angkor, please comply with all signs on the site and be mindful of your steps at all times. Do not climb on loose stones.
5- Smoking and Littering
As a member of the World Health Organization, Angkor has been a smoke free site since 2012. Smoking cigarettes disturbs others and cigarettes can start bush fires. To protect the environment, please do not smoke and litter.
6- Candy or Money to Children
Buying items, giving candy or money to children encourages them not to attend school but to beg. If you wish to help the children, please consider donating to a recognised charity.
7- Monks
Monks are revered and respected. If you want to take pictures, please ask for permission first. Women should not touch nor stand or sit too close to monks.
Supplementary Remarks
! Any act of looting, breaking, or damaging Angkor, or exposing sexual organs and nudity in public area is a crime punishable by law.
! Flying drones, filming, or taking pictures with (professional equipment for commercial purposes requires a permit from the APSARA National Authority.
Please visit the official website of the national authority of Apsara for more details: http//www.apsaraauthority.gov.kh/
You may also watch our YouTube video which was produced by the Authority:
Conclusion of this Angkor Visitor Top Tips:
Angkor Wat's captivating beauty and historical significance make it a must-visit destination for travelers. Located in Siem Reap, Cambodia, this ancient temple complex with over 400 temples offers a glimpse into the splendor of the Khmer Empire. With proper planning and a sense of awe, experiencing Angkor Wat becomes an unforgettable journey through time.
Nevertheless, without investing your effort in planning your visit to these temples, it could result in some discomfort and losing some important to see and experience.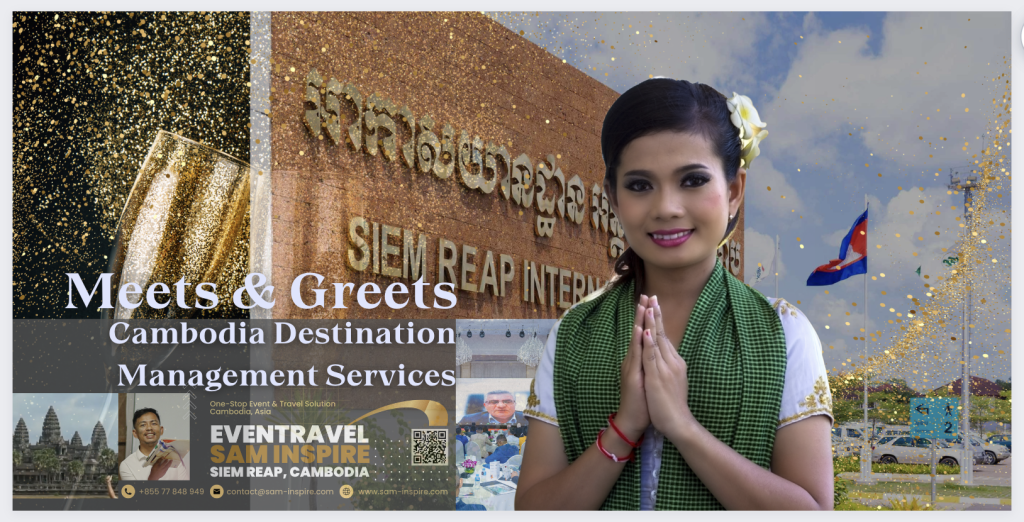 ---
Looking for an event planner in Siem Reap, gateway to Angkor temples who had the best destination knowledge, consider SAM INSPIRE Cambodia.