Special Event and Dining Venues in Siem Reap
Are you searching for the best event space and dining venues outside of the hotels and restaurants in Siem Reap, Cambodia? Then this event and dining venue finding article is the correct one for you to continue surfing. SAM INSPIRE is pleased to share with you the top best dining venues and event spaces information with a validation after Covid-19 situation has been relaxed.
Why Siem Reap as a MICE Destination
Siem Reap home to the world heritage site listed site with Angkor Wat temple and at least other 400 amazing less spoken temples in and surrounding the complex. Siem Reap also consists of rich and diversified natural heritages especially lives on the world largest fresh water lake, Ton Le Sap. While Cambodia is still a unique, untouched destination that you can relax, refresh, and rejuvenate. Making Cambodia a truly exclusive destination for M.I.C.E. (Meeting Incentive Convention Event).
Apart from all those natural and manmade inheritances, Siem Reap has the full potential and capacity to welcome and host any kind of events. For instance, Sokha hotel group could accommodate over one thousand rooms, Sofitel Angkor has the luxurious meeting and event facilities. Furthermore, there are Raffles, Aman, Park Hyatt, Anatara, Zannier groups and more in Siem Reap to accommodate all your VVIPs there.
What Exclusive Dining Venues Available in Siem Reap
Let's skip the existing dining venues at the hotels, resorts and restaurants, you may check this other information sharing with this article https://www.sam-inspire.com/best-siem-reap-restaurants/. Hereunder are the best selected outside catering dining venues in Siem Reap:
Awe-Inspiring Temple Event Venues in Siem Reap
Dining organized in the preserved archaeological park at one of Angkor temples is once in-a-lifetime experience. Dine arrogantly in a setting that astound and inspire, bringing special guests the most rewarding experience where the evening gets them closer together, striking up conversation, forming team bonds. Temple gala dinner event brings you with a unique experience of Royalty lifestyles. The well thought designed lighted temple towers, along with thousands of lit candle light and the warm welcome touch light on the walk way making the venue just like a haven on earth. The rejuvenating gourmet live cooked dishes and the unlimited free flow of selected wine, spirit, beer and soft makes your dining experience untiring.
Upon arrival in the dark in the middle of nowhere, your delegates will be welcomed with an amusing Khmer traditional Chaiyam dancing troop leading the group along the parade of standing torchlight, reaching the surprising standing cocktail reception and pass-around canapés. This is not the end of your special evening yet, after calming down a bit. The group will be introduced to the amazing dining banquet set up awaiting for your on the other side of the temple.
This stunning open-air dining while the temple is lit up with an amazing light show. Five different performances will entertain you on this magical evening including the most graceful dance, the Royal Apsara dance. While the most delicious mouthwatering live cooked banquet leaving you with memories your guests will treasure
The available and best selected temples to privatize for your event are Thoamanoan temple, Kravan Temple, Wat Athwea temple, Banteay Samre temple, and Elephant Terrace.
---
Thoamanoan temple dining venue is the best-preserved temple built at the same period as Angkor Wat temple in the reign of King Suryavarman II in early 12th century. Located just within 20 minute drive from Siem Reap downtown, Northeast of Angkor Wat temple, this temple is a perfect venue to set up an exclusive award and gala dinner event.
---
Kravan temple dining venue is a stage-like five reddish brick towers and possesses and the only carved brick bas relief ever built in the early 10th century by the Khmer Empire, Harshanvaraman I. The closest and most excessive temple within 10 minutes from Siem Reap downtown.
---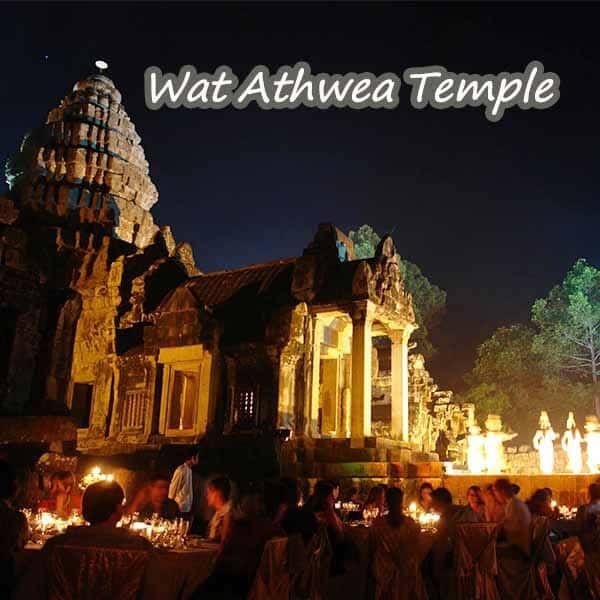 Wat Athwea temple ding venue is known as a little Angkor Wat temple built in similar architecture facing West. While most temples located to the North of Siem Reap, this early 12th century-built Wat Athwea located to the South in the direction of Tonle Sap. By choosing Wat Athwea temple as your special dining gala dinner venue, you will be taken through beautiful villages and the paddy field views.
---
Banteay Samre temple themed gala dinner venue is flat temple displaying distinctively Angkor Wat-style architecture and artistry built in the Angkor Wat temple period in early 12th century. Not different from other ancient temple event venues above. On arrival guests will be welcomed by atmospheric drumming and amusing monkey face masked dancers and cocktails. Then you will be escorted to the dining area to the East of the temple, where unlitmied free flow drinks and international standard live cooked set menu dinner will be served. Dinner here is spectacular, the candlelit temple is stunning in the evening. The traditional performances and graceful Royal Apsara dance will keep you enthralled as you dine on a magnificent banquet fit for a King.
---
The Terrace Of Elephants gigantic gala dinner event venue located in the heart of Angkor Thom temple built in late 12th century by the most glorious king Jayavaraman VII. The 350m-long Terrace of Elephants was used as a giant reviewing stand for public ceremonies and served as a base for the king's grand audience hall. It has five outworks extending towards the Central Square-three in the centre and one at each end. The middle section of the retaining wall is decorated with life size Garuda and lions; towards either end are the two parts of the famous parade of elephants complete with their Khmer mahouts. It is just like the Buckingham Palace, National Mall and Champs-Élysées all rolled into one. This venue is the best for large groups up to more than two thousand seats can be accommodated for an amazing Gala Dinner and event.
This special dining event organization including but not limited to:
– Catering & logistic fees
– Government Permission to set up the dinner at the selected temple or similar till 10:30 PM only
– Security guards
– Sound system and temple lighting
– Welcome cold towel upon arrival
– Stage installation for performance, award presentation, and speech
– Venue decoration with flowers and coconut trees
– Tiki Torches (Oil lamp stand) as walkway from the entrance to the temple
– T-Light candles as walkway from cocktails reception to dining area
– Theme table decorations with flower centerpieces
– Menu to be printed with group/company's Logo
– Fumigations & spray
– Mobile Toilet with cleaning staff to standby
– Lighting under dining table
– Electric fans set up around dining area
– Staffing with well uniform
– 30 minutes pre-dinner cocktails, includes: House Spirits, House-wine, Local beer, Soft drinks, Juices & Water
– Chef's canapes to serve as pass around style during pre-dinner cocktails
– Chips & Nuts set up on cocktail tables
– Security at the function site
– 4 Course Set Menu (Khmer or Western Set Menu)
– 2.5 hours drink package during dinner, includes: House Spirits, House-wine, Local beer, Soft drinks, Juices & Water
– Cambodian traditional performance during dinner
– Catering & logistic Equipment transportation
– Round trip transfer by coach
---
Dining organized in one of the best selected authentic Khmer Villas or at a Khmer contemporary house. Second in the row comparing to the temple gala dinner, having either a special gala dinner or an event at a local property is a super experience. The flexibility of timing and styles made the venues amazingly great. Sam Inspire is bringing some available villas or houses that you could select to be your event place and space: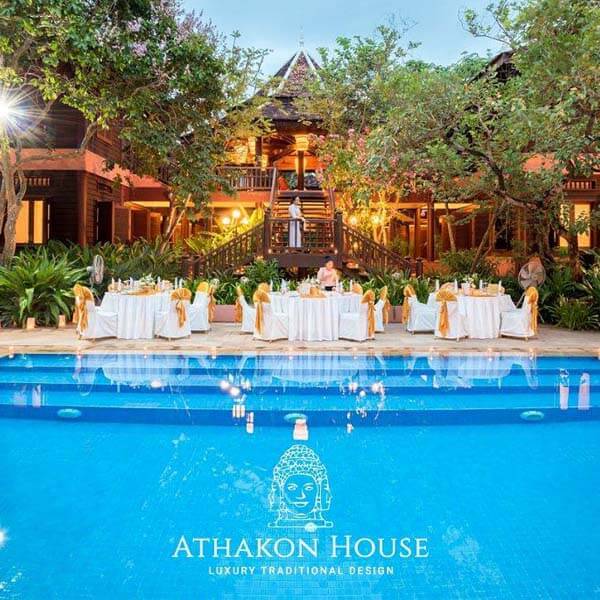 The Athakon Authentic Khmer house is built on two large rice fields, which for many years were fed by streaming water originating from the Phnom Kulen holy mountain. The unique shape of the house is inspired by classic Khmer architecture. Their ancient temples are famous for their perfection of proportion and their consistent structure, they are important religious monuments of Cambodia, many of which represent a micro cosmos.
Accessed suitable by any means of transportation
Transfer duration : 10 / 15 min max
Welcome cocktail upon arrival – 30 min
Khmer or Western set menu / buffet
Entertainment upon request : Apsara Dances, DJ, Live band, Phare Ponleu Selpak circus show …
---
La Residence de Kruos contemporary Khmer villa is located deep behind the noise of the city centre in a Siem Reap authentic village called Kruos. The garden can accommodate a unique and intimate dinner for two or on a larger scale more than 250 people for cocktails and sit-down gala dinner.
Transfer by coasters – capacity 17 pax maximum
Transfer duration : 15/20 min max
Welcome cocktail upon arrival – 30 min
Khmer or Western set menu
Entertainment upon request : DJ, Live band, Phare Ponleu Selpak circus show …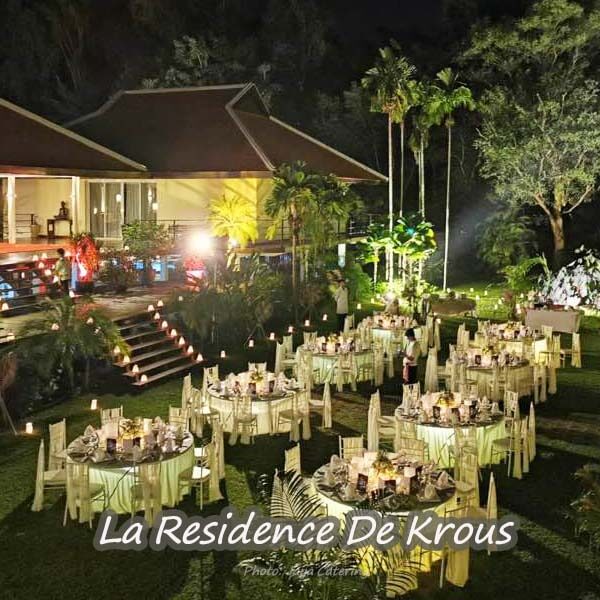 ---
Theam's Art Gallery is a Unique Atelier and Artist' Studio in Siem Reap. You will find over there unique and authentic designer-made products and lacquered panels.
Private visit of Mr Theam's gallery : various savoir-faire and works-in-progress can be observed at the workshop such as painting, fine sculpture, lacquering…
The dining event will be started from standing cocktail in the garden where you can also visit the gallery shops guided by the artist, Mr. Theam. Then the sit-dinner will be organized in an amazing A/C room.
Accessed suitable by any means of transportation
Transfer duration : 10 min max
Welcome cocktail upon arrival – 30 min
Khmer or Western set menu
Capacity: seated 50 pax, over 100 for standing cocktail reception
Entertainment upon request: Apsara Dances, DJ, Live band, Circus show
This special dining event organization including but not limited to:
– Catering & logistic fees
– Permission to set up dinner at a private villa
– Security guards
– Sound system and temple lighting
– Welcome cold towel upon arrival
– Stage installation for performance, award presentation, and speech
– Venue decoration with flowers and coconut trees
– Tiki Torches (Oil lamp stand) as walkway from the entrance to the temple
– T-Light candles as walkway from cocktails reception to dining area
– Theme table decorations with flower centerpieces
– Menu to be printed with group/company's Logo
– Fumigations & spray
– Mobile Toilet with cleaning staff to standby
– Lighting under dining table
– Electric fans set up around dining area
– Staffing with well uniform
– 30 minutes pre-dinner cocktails, includes: House Spirits, House-wine, Local beer, Soft drinks, Juices & Water
– Chef's canapes to serve as pass around style during pre-dinner cocktails
– Chips & Nuts set up on cocktail tables
– Security at the function site
– 4 Course Set Menu (Khmer or Western Set Menu)
– 2.5 hours drink package during dinner, includes: House Spirits, House-wine, Local beer, Soft drinks, Juices & Water
– Cambodian traditional performance during dinner
– Catering & logistic Equipment transportation
– Round trip transfer by bus
---
Since these venues are very special, therefore if you are interested in learning more or have a quote, please drop us a contact to the following address: