Successful TRAACS INTERNATIONAL Carnival 2023 Event
We would like to conclude that the TRAACS INTERNATIONAL CARNIVAL 2023 Event Management by Sam Inspire Cambodia has been the most meaningful and successful event. We got recognised and appreciated from all the hosts, event organization committees, participants and other stakeholders.
After lots lots of planning and communication between the TRAACS event team and our SAM Inspire Cambodia team, we have ended up with a two days event with the following event agenda and event flow: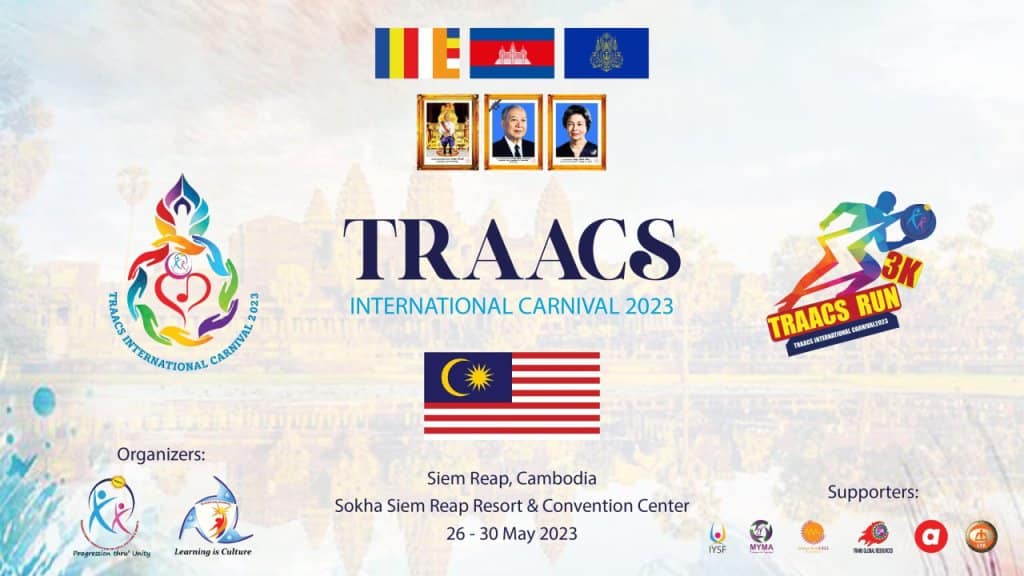 9.30am : Mangala isai (Classical music)
9.45am : Welcome speech by MC Mr. Hak Hien and Ms. Yasotha Sandarahasan
9.50am : National anthem & Oath taking by athletes and team heads

Ms. Rajashree Chaudary (President IYSF),
Dr. Radhakrishnan (President National yoga federation of India,
Dr. Niranjana murthy (vice President of National Yogasana Sports Federation and his team,
Mr. Suresh Kumar (Universal Yoga Sports Federation),
Mr. Saravanan, Mr. Murugan,
Dr. Balachander from Chennai,
Ms. Malligai (Millinium Yoga Center Malaysia)
Ms. Santha Money (Malaysia) from Kriya Babaji Brindhavanam Penang.

10.00am: Lighting up the lamp by Datuk Kohilan Pillay, Ms. Rajashree Chaudary, Ms. Vijaya Subramaniam, Mrithjunkumar Pande, Mr. Uday Pandey Secrtary general of Viswa Mallakhamb federation. He is instrumental for the creation Mallakhamb federations across the globe, to name a few Mallakhamb federation USA, Malaysia Yagasana and Mallkhamb association
10.10am: Classical music Vocal by students of Alokas Arts Academy Malaysia

Mahaganpathim song by (Selvi. Ruphasri Murugan, Selvi. Varshinee Vivakanantha and Ms. Yasotha chadrahasan)
Om saravanapava By (Selvi. Ruphasri Murugan, Selvi. Varshinee Vivakanantha).
Alai payuthey by Ms. Yasotha sandrahasan

10.15am: Cambodia Blessing Dance
10.30am: Indian Classical Dance by students of Alokas Arts Academy Malaysia, Bhoo sambo by Janusre Suresh, Tarvena SaravanaKumar and Varshinee Vivakanantha.
10.45am: Opening Speech by TRAACS Honorary president and also served as deputy minister of foreign affairs Malaysia Datuk Kohilan Pillay, Vice president of Malaysian Indian Congress, Former Deputy minister of Foreign Affairs Malaysia. He also read the Message from His Highness Prince Norodom Buddhapong, the Royal family of Kingdom of Cambodia
11.00am: Yoga competition (Athletics – Below 12years Female)
11.30am: Coffee Break
11.45am: Continuation of the competition
1.00pm : Lunch
2.00pm : Yoga competition (Athletics)
4.00pm : Artistic & Rhythmic yoga
5.00pm : Guest performance by Cambodia Musician Talent, Mr. Meam BY
Remarks by Chief judge for TRAACS International Federation Yoga. Rajashree began her life of Yoga from the early age of four years. Since then, she dedicated herself to the practice and propagation of Yoga, which, consequently, motivated her towards a multi‐faceted career as a Yoga instructor and therapist, writer, motivational speaker, philanthropist, and as an ardent advocate for children and women. Born and brought up in Kolkata, and moving to Los Angeles at the age of nineteen, Rajashree's background is a true blend of the East and West. Rajashree is a five-time winner of the National Indian Yoga Championship from 1979 to 1983. By age 11, she won several titles. This experience shaped her life dream of encouraging youth to practice yoga. Born in Kolkata, living in Los Angeles since age 19, Rajashree's background is a true blend of the East and West.
5.15pm : Chief judge speech / Announcement of the results
5.45pm : Chief Guest speech/ Honouring the chief guest/juries
6.15pm : Thank you speech by TRAACS President Ms Vijaya Subramaniam
6.30pm : End of the event with lots of tears and cheers
Here you is a glimpse of the events on the above agenda on our official YouTube channel.
This was the end of day one / 27 May 2023. As for day two, was all about Marathon. Over 100 children from Angkor Kids Center and some 50 from overseas were participated in this 3kg mini Marathon run. The run was half on and off paved road which gave both local international runners a great experience and interaction.
To proof our successful delivery of this wonderful and colorful Carnival event, hereunder are the comment from the event hosts.
Thanks Sam for everything. It was a wonderful event. You & your team rocked.

Vijaya Subramaniam, President of TRAACS Malaysia.
Working with Sam and Team for TRAACS 2023 International Carnival in Siem Reap, Cambodia was a wonderful and smooth journey. He and his team are very detailed, have high level of patience and prepares in advance for any possible loopholes. Importantly, he is one humble, genuine and down to earth person while love working with & educating kids. We have organised events all over but I can safely say Sam Inspired Team is the best. All the best and good luck.See you soon. Regards, TEAM TRAACS.

Sreedharan Krishnan, Secretary General of TRAACS Malaysia on behalf of TRAACS team
Furthermore, Sam, the founder of Sam Inspire Cambodia received also an Appreciation Token from the event host committee, handed over by Datuk Kohilan Pillay, Vice president of Malaysian Indian Congress, Former Deputy minister of Foreign Affairs Malaysia.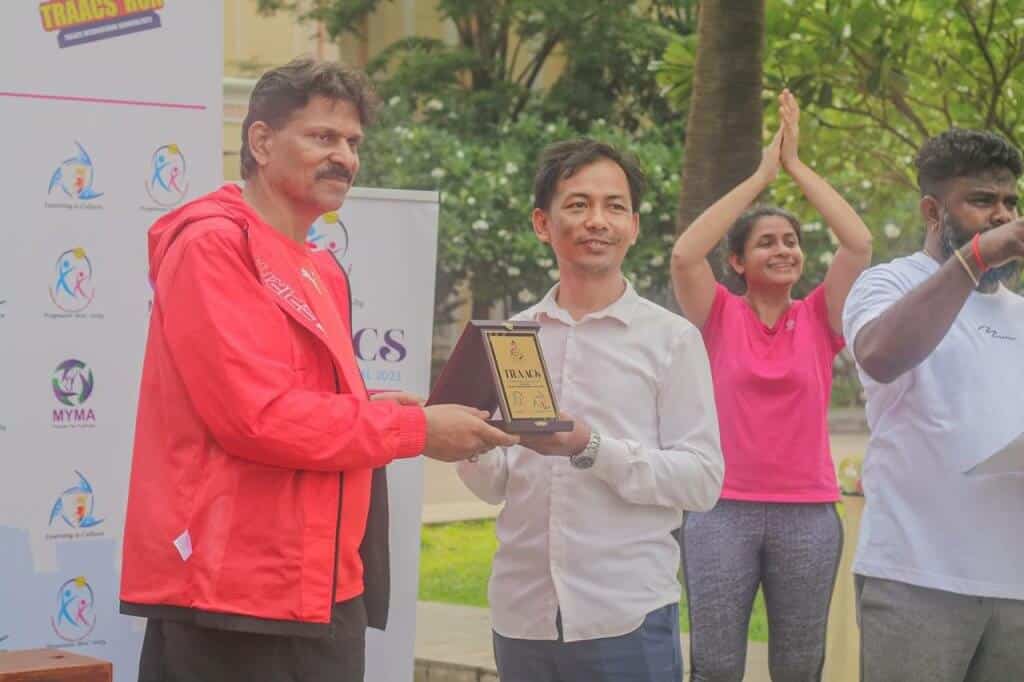 On behalf of the children of Angkor Kids Center and Sam Inspire would like to proceed special thanks to TRAACS (Transnational Association of Arts, Culture and Sports) Malaysia for hosting this fabulous event to over 100 children for two consecutive days. The safe and comfortable transportation, the nice food and beverage at a five-star hotel of Sokha Siem Reap Resort and Convention Center, and the super professional stage experiences for their performances.
Getting out of the box, emerging in the outside world through the arts and talents.

Over 100 students from Angkor Kids Center were invited to participate in a Carnival event hosted by #TRAACS (Transnational Association of Arts, Culture and Sports) Malaysia.

The event was held at Sokha Convention Center, a local 5 star resort and convention center in Siem Reap, Cambodia with event ground-handling by Sam Inspire – Cambodia.

The two days event on 27-28 May 2023 includes Yoga competitions, classical and contemporary dance competitions and Marathon run with local and international participants and judges.

Our AKC kids, teachers and staff were well taken care off from home to the venues and back home with comfortable transportation. During the event itself, they were offered with full board with lot of food and drinks as well as medical first aids.

What's even prouder, the event was organized with Plastic Free theme, no water bottles were used, but refilled gallon of water and water glasses were arranged.

Our kids cemented that by far, this is once in a lifetime experience that they could participate and show their on the super nice stage where all logistics are well supplied.

Thanks to the hosted associations and thanks to the organization for making this opportunity for our kids to experience. All the best from tge AKC family!

A message posted on Angkor Kids Center official Facebook page
Our kids and local ground handling organization are super duper proud of this event. We hope to have the next events with you soon. We wish you continue to be successful and brighter for kids around the world!
Looking for event management company in Siem Reap, Cambodia that rock, find Sam Inspire – Cambodia