Sam's Relationship with Mr. Tan Peng Ann Singapore
You may have known that Mr. Samnang Chhon, known as Sam is the author of this Sam Inspire blog site. This article, Sam is sharing his story of how he started developing his first leadership mindset and what is his relationship with the accredited leadership trainer and great social commissioner from Singapore, Mr. Tan Peng Ann. This article will cover the brief biography of Mr. Tan, his Training Made Sam to meet him, his charity work and Sangkhoeum Khmer NGO founding and Sam's personal opinion on Mr. Tan's.
The Brief Biography of Mr. Tan Peng Ann
Born a few years after World War II, Mr Tan is the third of the four children of a trader and a housewife. He grew up in the colorful Tiong Bahru area, in Singapore, Southeast Asia. Although his protective mother saw to it that he did not get involved with the neighbourhood's less savory elements.
After completing his primary education at Tiong Bahru and Tanglin Primary, he earned himself a spot at Raffles Institution.
At 18, his father died. Just in this beginning of the legal age, his mother insisted him to work. He was disappointed because he wanted to go to university and become an engineer in the future. Then, he enrolled in the former Teachers' Training College, now the National Institute of Education, in 1967.
Hi teaching career was not successful because the national service led him to sign up for a military career which spanned more than 30 years.
He acquitted himself well and after basic military training, was picked to attend Officer Cadet School where he was trained as a logistics officer and later deployed to the Ministry of Defense (Mindef) as a service officer.
For five years, he served under an Israeli officer who taught him the finer skills of strategic military manpower planning. It was a formative period, one which he says toughened him up and made him matured.
Mindef, at that time, came under the purview of the late Dr Goh Keng Swee, whom he describes as a forward-thinking and decisive leader.
Not too long at the age of 25 years old, Mr Tan got promoted to take the responsibility for the movements of people in the SAF. His key areas were macro manpower planning, deciding how many to train as what, where and how.
In 1972, he underwent training to convert from a service to infantry officer. More than a decade later, he went on to study political science and history at the National University of Singapore on an army study award. He also has a Master of Science in Training from the University of Leicester.
Altogether, Mr Tan who married a former Mindef clerk when he was 28 – spent three decades in various positions in the army, including as commander of the Central Manpower Base. When he left in 1997, he was already a colonel.
Mr. Tan likes being busy and active. He has written and published many interesting books such as Photo-filled coffee-table book, Story Of My Life, How to Retire Gracefully,for his loved ones. And now, he is working on a book called When He Is 73, he is also penning a volume of short stories about his life and experiences for his seven grandchildren, aged between 5 and 15 years.
In the general election in Singapore in 2015, Mr. Tan served a political party, the former People's Action Party grassroots leader at Fengshan contested as a member of the SingFirst opposition party in Jurong GRC.
Mr. Tan had strong feelings on certain government policies, such as the over-emphasis on economic growth and success.
SingFirst got only 20.71 per cent of the votes against the PAP team led by Deputy Prime Minister Tharman Shanmugaratnam. Mr Tan says he did not contest to win but to make sure that a dissenting voice could be heard.
Mr. Tan's Trainings and First Meetup with Sam
Having conducted leadership and management courses in the military, he became an associate trainer at the Civil Service College for a couple of years. And this led him to get introduced to the Leadership Training in Cambodia.
In 2004, Mr. Tan was invited to conduct a leadership training course for professionals in Cambodia. From there with some of his Cambodian friends, he did some charity and social work for the people in Tramkul Village, located in one of Cambodia's poorest regions 50km south of Phnom Penh, called Ta Keo province.
Actually, Mr. Tan has nothing to do with Sam during this period yet. Sam only meet Mr. Tan for the first time in 2012 when he registered to his courses.
[The year 2004, Sam was still in the public school and he was also working as a motor-taxi driver taking tourist around Angkor temples. And this year was the time that he met his adopted brother and sister, Mr. and Mrs Dorner from Germany. If you read the story of Sam's and how he founded his small charity school in his home village ALL FOR KIDS NGO and his Professional Career Background, you will understand better what Sam was doing from 2004 to 2012.]
After graduating from a Tourism Vocation Training School in Siem Reap, which was a shortcut to get a job fast. Sam was offered a job in one of the leading Inbound Tour Operators in Asia.
He was switching around to many positions in the company. However, one of the career development that Sam has anticipated was being promoted to join the M.I.C.E. (Meeting, Incentive, Convention, Exhibition) at his Inbound Tour Operator, he was working with.
This new post and the responsibility to manage his school and organization brought Sam with many challenges that he made him to do some research online for the appropriate short course to develop his own skills. One of the skills, he wanted to improve was Human Resource Leadership Management. From Sam's Google search, he found the course provided by ACE (Attitude Centre for Education) in cooperation with The Eagle Solution in Phnom Penh.
Without any hesitation, he registered to the course right away. To make better investment from his trip to Phnom Penh, Sam also registered to another course offered by the same institution, called Professional Organizing and Administering Training (how to train the trainers). When the day come, Sam took the night bus to Phnom Penh from Siem Reap for the course next days.
This was a two-full-day course (22-23 June 2012) with many participants and taught by a professional coach from Singapore and that was Mr. Tan Peng Ann. Due to the number of participants of this first course, Sam did not have personal time to interact with Mr. Tan yet. Sam had one-day break to hang out in Phnom Penh on 24th June 2012.
The next course of Professional Organizing and Administering Training arrived on 25th June 2012. This day, the room was much smaller, same for the number of participants. The course was conducted by Mr. Tan again. The class was begun with a self-introduction which was a time to catch the interest of Mr. Tan on my professional career background in the travel and tourism business. We exchanged the business card and he promised to contact me for some business talk. The course was productive and the relationship was much improving comparing to the first course.
As promised, some days later, should be the time Mr. Tan was back in Singapore. We started to exchange some email conversation. He promised he will visit me in Siem Reap on his next trip to Cambodia.
That was certainly true, we had our first meeting in Siem Reap at KFC on Sivoutha Street. The meeting was coordinated by Mr Mien Heng, who is Mr. Tan's most trusted person in Cambodia from there and until now. We had a productive and resourceful discussion on the travel and event business cooperation. As a result, he sent Sam the first family on a tour to travel in Siem Reap and Phnom Penh.
Mr. Tan's Charity Work and NGO in Cambodia
Getting closer into the relationship, every time, Mr. Tan came across Siem Reap, Sam was always offered to meet for a coffee and chit-chats. This made Sam got deeper into Mr. Tan's work in Cambodia and how generous and kind he has been doing and contributing to the people of Cambodia through his social work, established non=profit organization and training workshops. Here Sam Inspire would like to address some of the stories he had encountered as following:
In 2009, Mr Sineng, his partner from 2004 died suddenly. With his death, the Tramkul project became poorly managed. The one at Wat Than was dogged by management issues which, Mr Tan noticed, affected initiatives by many NGOs too. There was no continuity; poverty continued to be there. Even Mr. Tan's own efforts were not sustainable; he still needed donations from people. His way of organizing the NGO made the state of affairs made him uncomfortable.
To be effective, Mr Tan decided that he needed to take control. Marshalling all his planning and organizational skills, he decided to launch Sangkhoem Khmer (SK), an NGO officially registered with the Ministry of the Interior of Cambodia.
Sangkhoem Khmer's first project is in Angkunh Village, in the Khvao Commune which has 18 villages. Mr Tan shelled out US$6,000 for a 1,800 sq m piece of land, enough not just to build a learning centre but also to engage in husbandry to fund and support it. To help him run the project, he hired Mr Mien Heng, who had worked with him in Wat Than.
Through his intensive studies and resourceful researches, the SK NGO launched several sustainable projects including Pig Raising, Chicken Feeding and Lately Steady Mushroom Growing. These not to mentioned to learning center offering free English classes to the local children.
The money generated from the project goes towards funding the learning centres where about 300 students pay 1,000 Cambodian riels (35 Singapore cents) every month, to go through a structured English programme. Besides language lessons, the students also learn concepts like respect, cleanliness and discipline.
With the successful work in Angkunh Village, Ta Keo province, Mr. Tan proudly expanded learning centre and projects to Trav Kiet village, Kompong Khlaing district, 40 Km East of Siem Reap town center. This village is the home town of Mr. Mien Heng that Sam visited quite a few times.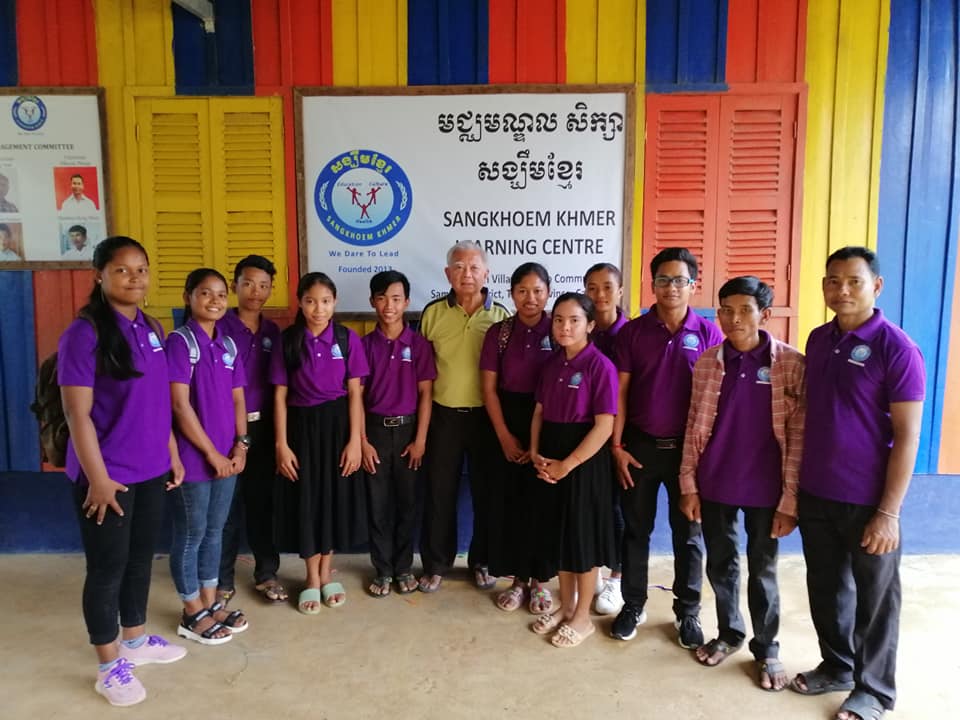 The project started with purchasing a flooded land of a paddy field, then filled up with soil to the level up to be safe from flooding. Lastly construction of learning campus, water filter, toilet facilities, solar panel and another important construction of the Mushroom Shelters and yes more…
The center was inaugurated on 09th October 2019, just before the outbreak of Covid-19 pandemic. Instead of 100 children, now on both centers, there are over 300 children getting the benefit from the learning center. And the NGO has to be reorganized with Mr. Mien Heng moved to Siem Reap to look after Sangkhoem Khmer Learning Centre Siem Reap (SKS), other centre in Ta Keo is managed by the brother (name?).
More information about the project visit the official Facebook page here https://www.facebook.com/Sangkhoem-Khmer-462105203839360
Conclusion and Sam's Impression to Mr. Tan's Work
With the ongoing relationship with Mr. Tan and all this contact and people from the point of business to close friendship. Sam has strongly admitted that he learned a lot and got so much inspired by how this tireless 73-year man, Mr. Tan Peng Ann has done and is doing to help the people of Cambodia.
He should have taken and deserved for a comfortable retired life in Singapore. But on the other hand, he spent most of his physical time in Cambodia and full time work from everywhere for Cambodia.
"As a people of Cambodia, I would like to thank and be the most grateful to Mr. Tan Peng Ann and all his family and friends for doing such a great humanity work for Cambodia. I, We, people of Cambodia will remember you and your work eternally., Sam thanks. And Sam added that he believes the SK / SKS team will use all Mr. Tan's leadership and role model to perform their work well even without your supervision from Mr. Tan.
Samnang Chhon, your friend in Siem Reap, Cambodia.