Buddhist Monk Daily Life Activities – Sam's Monkhood Life Experience
With the influx of Indian culture and civilization since the first century, Cambodian people today are predominantly Buddhists. This occupies up to 90% of the total population which is around 18 million people as of 2021. Buddhism has been also officially registered as the only official religion in Cambodia. You may read the motto of the Kingdom of Cambodia as Nation Religion King.
With this article, Sam Inspire blogging is going to feature a specific story of Mr. Samnang Chhon known as Sam about his daily life activities as Buddhist monk. Sam is the author of this sam-inspire.com blog site and he also runs a YouTube channel of Sam Inspire Vlog posting contents about lifestyles, nature, travel and other interesting scenes. During this big break from being busy with business and social work as you may know what Sam is about. Sam took his twenty-day escape to a super peaceful Buddhist temple, called Peung Bak Ro Tes Pagoda. During this fairly long period, Sam took 14 days ordinated himself to be a Buddhist monk and serve the religion rules firmly. This is not his first time living in the pagoda but he was impressed by how well the ways of monks' routines here was different from his former temple. This Peung Bak Rotes temple has a better way of practise and live as monks for those who want to build peace and find enlightenment.
The following paragraphs, Sam will share his experiences there from the first day till he came back to normal life.
Pre Ordination Days – Temple Boy / Monk Boy
Turning life to be a monk seems simple process but the fact is not at that ease if it goes in a common way of doing the traditional ordination ceremony. Sam was having in mind that he wished to be a short term monk but he did not know how to do it without any support especially with the ordination ceremony and also his family management. Unexpectedly, one evening, Sam got a call from the wife of his good friend, Mr. Vanny's, Mrs. Sayon, inviting him to join the ordination ceremony of Vanny. Without any hesitation, Sam asked Sayon if he could also join Vanny's journey to be the monk. Sayon quickly checked with her family and gave the feedback that Sam could join his. The ceremony had been planned in the next two days which was a bit of rush. Next day, Sam just had a light pack with a towel, a pair of clothes plus some toiletry kits. He said goodbye to his two kids and rode his motorbike toward the temple of Peung Bak Re Tes pagoda with Vanny's wife and kids. This temple located around 120 km East of Siem Reap in a mountainous jungle area with no access to public electricity, road and phone call service coverage. So none could reach you when you are there.
Sam only told his wife, Mealea Ley, by leaving a message on the way when the phone service coverage was about to end. He did not expect that his wife would agree or not, he just went on his plan. This made him feel selfish but the story of Prince Siddhartha Gautama, who later became the Buddha, did the same way that he just ran away from his family without informing or seeking for agreement from anyone. Therefore, he just skipped his family apart and focused on his mission to purify his mind through Buddhism ways as much as he could. In hope to come back home with a better family leader.
Once arrived at the temple, Sam surprised Vanny with his unexpected presence and especially the news that Sam would also ordinate with him. This day, nothing happening, but making some socialization with the monks and monks' boys and men and other people there. Among those people, Sam got to know Venerable Phikkku Ry who is very knowledgeable about Buddhism in both traditional and modern norms. With him, Sam and Vanny learned a lot and they became Phikkhu Ry's personal servants. They prepared the food, washed the dishes and cleaned the house and other work as required.
As an orientation day, Sam was privileged to take part in a Mountain Climbing Trip to the neighboring mountain called Mount Kong Kaeb (Frog Mountain). The hiking, climbing and the views were just superb! Here is the video about Sam's visit:
Day two of the monk's boys come. This day was the ordination ceremony preparation day. After serving the monk in the morning and just by the time that Vanny's family arrived in the temple. Then we started to inform the nuns and wisemen and other people there that tomorrow there will be a new monk ordination ceremony and invited them to join. Vanny's mum also appointed the experts there to make the ceremony worshiping and decoration stuff according to the traditional organization in Cambodia. Please note that there are two types of ordaining monks in Cambodia, one is to be a novice (Sramane), young monk or first time being a monk. Other one is ordaining to be Bhikkhus, adult monks or nuns. The ordination of being a Buddhist novice is more simple than the Bhikkhu one.
Before the end of the day and since this day was the Head Saving day which was one day before the full moon or Moonless Day. Sam and Vanny had their hair and Eyebrows saved.
On Ordination Day – Life Switched Normal to Monk
This special and excited day came in. Right after the morning having their breakfast, the arrangement was also done. Sam and Vanny got their special makeup and dress-up. This way of doing is representing that this is the last chance to link oneself to all those external love and linkages to normal men. Sam and Vanny dressed up in traditional dress with Hoall, a Sarong like pant and special Silk Krama as shirt. Their faces, cheeks and lips were applied with mascaras, lipsticks and other makeup stuff just like what girls normally use for their beauty enhancement.
The ordination ceremony started with a three-round processions around the Preah Vihea (ordination hall). During the walking, Sam and Vanny were asked to hold a piece of Truoy which​ is a banana-leaf folded and wrapped around incense sticks, candles and lotus flowers as peak and core. Some people holding big umbrellas and some holding the three Pieces of Monastic Robes (Tricivara) Saffron Robes.
The primary three pieces of monastic Robe / Tricivara includes the following:
1. The Inner Cloth (Antaravasaka): អន្តរវាសកៈ (ស្បង់)
This is in the form of a waistcloth. As a result, the monks wrap this cloth around the waist. And, it covers from the waist to the knee. This is the innermost part of the three-piece monastic robe.
2. The Upper Cloth (Uttarasanga): ឧត្តរាសង្គ (ចីពរ)
The monks wear this cloth above the Antaravasaka. It covers the upper part of the body, around the torso and shoulders. However, most times the monks wear the Uttarasanga to cover the left shoulder and leaving the right shoulder bare. Certainly, this is the most conspicuous part of the robes. And, it measures around 6ft × 9ft in size.
3. The Outer Cloth (Sanghati): សង្ឃាដិ (សំពត់​ដេរ​ផ្គួប​ភ្ជាប់​គ្នា​ជា ២ ជាន់ ឬ​៤ ជាន់)
This is in the form of an overgarment. The monks wear it to cover their upper body. Moreover, they use it during cold weather conditions to keep their body warm. As a result, when they are not using the Sanghati, the monks will hang it over their shoulder. For this Sanghati is commonly for the full monk / Phikkhu monk only. Novice monks only have the above two plus the following three piece of clothes.
However, in today monks, they are using the Five-Fold Monastic Robes same like the former nun. In addition to the triple robes, they also wears a vest or bodice (Samkacchika: សំពតងូត), a bathing-cloth and an inner jacket like called Udakasatika: អង្ស័ក). Altogether comprising the "fivefold robe". In addition to this, monks also have a belt (វត្ថពន្ធចង្កេះ)​ for tying the Antaravasaka, and the last one is the Chest Tie (វត្ថពន្ធ​ទ្រូង) for tying the everything together on the chest.
Back to the procession, this walking was accompanied with the Cheering sound and Cheering music all the way through. When the third round was met, Sam and Vanny as well as other one were walked into the ordination hall. Here, there was a master supported by two Phikkhus. The new ordained men got to sermon, pray and worship in the front of the monks and Buddha statues as well as the general people there. After all those sermon chanting, Sam and Vanny got their clothes changed with the monastic robe and receive the ten Buddhist precepts. Just within two hours, Vanny and Sam now became novice monks. They got their first lunch and no dinner from today onward.
Sam's Monkhood Daily Routines
Switching life from normal person to monk seemed nothing significantly different. Just the clothing and some rules but to him personally, it was a lot different in his feeling. He got to be very careful in any acts. The ways monks speak also different from normal people glossaries like (I: Khnhom to A Thma)… And everywhere they went to, they got respect from normal people seeing them like holly people.
Let's explore together would this lifestyle be a true holly one as it should be? The following is a 24-hour activities that Sam and Vanny was through in their fourteen-day rotation being monks.
As early as three o'clock (3:00 am) this newly ordained monks set their alarm clock to be alerted and woken them up. In the first morning, it was really a bit of challenge waking up that early, so it took them to spend thirty minutes to get out of bed.
After getting out, they went to wash their faces, brush their teeth and dressed up. Again dressing the monastic robes was quite challenging, they could not make it which assistance was requested to other monks to help them. At the time that they got ready, the sound of the big drum was made as a sign to call all the monks, wisemen and nuns to come to the hall for the morning praying. That was four o'clock (4:00 am) every morning that this drum was beaten.
Just after the three drum beatings, Sam and Vanny went straight to the temple. In this ordination hall, there were places arranged for Phikkhus and there were blocks for novices and space for laymen and women. Sam and Vanny was offered a place to sit in a corner. Right at a quarter past four (4:15 am), when everyone was gathered. The lead monk started chanting. Vanny and Sam could only participate with this one-hour chanting by reading the books while most others just did it by remembering all. This chanting in the hall was the Buddha Worshiping Pray. There were two times a day, one in the dawn and other one in the evening.
After the Dharma chanting finished, the morning mission was not yet closed. There was still another very important session to be participated. That was meditation. The regular meditation was a Walking Meditation for around one hour walking around the fish pond around 20 meters x 20 meters. But in case, it rained heavily, this walking meditation was switched to Sitting Meditation instead. The sitting meditation was to be done in the Hall. The meditation was led and taught by a meditation expert who is a Phikkhu as well. If any monks especially, the novices missed this praying and meditation, they had to compensate by walking double the regular one. It meant two hours or 40 rounds.
From Sam's experience in comparing to other pagoda, he felt that this way of practices are very good. Most of other Buddhist temples, the monks only go to pray in hall, meditation is not available on the regular basic. That was why he felt so special there.
After the meditation done, all practitioners went back to the temple and had the last pray and dedicate the good deed to their own people and souls. This was just around fifteen minutes only. They all and everyone had a break to their own houses.
Not too long after, the bell sound from the kitchen was made which was the sign to tell that the food / breakfast was ready to be collected or alms. Normally, the breakfast and lunch dining is in one place in the Dining Hall but due to Covid-19 the master asked individuals to eat at their own place. Without any delay, Sam and Vanny brought their own begging bowls and went to pick the food. The food collection was not just for themselves but also for Phikkhu, Venerable Ry. Just like when they were monk boy, Sam and Vanny prepared the food offerings to Phikkhu first before having their own own food. To Sam's experience, even though, they had no dinner, he was not too hungry. Things were just like normal and he only ate even less than normal.
After breakfast, they washed the dishes and it was time to take break. Sometimes, Vanny just had his sleep. For Sam, since he is not a day sleeper so he laid down as well. But most of the days, there were many other monks came to pay a visit to them, so Sam spent most time honoring the hospitality.
Then by eleven o'clock (11:00 am), the bell beaten again. This time was the lunch food collection. We were not hungry but no choice because after 12:00 AM, monks are not allowed to eat anything. Vanny and Sam went to collect lunch and did the same way as breakfast arrangement.
After lunch, most of the days, some read the book about meditation and learn to chant some Dharmas. Other than this, Sam also joined Vanny and Venerable Ry to visit Rang Bay which is an elephant pet of The Beige Hotel from Siem Reap. During this hotel closure, A Rang Bay was brought to this mountain area and raised him there because the area is filled with elephant's natural food. The team always brought some gifts which was Sugar Cane Trees for him. A Rang Bay likes this plant so much because sugar cane plants are sweet and most of other natural plants and wheats there are plain.
Please watch this video and see how they feed the elephant with sugar cane plants:
This afternoon break was prolonging until five o'clock (05:00 pm) on own activities. At 5:00 pm, there was a big drum beating again. This beating just to give the notice to the villagers that it is five o'clock. As for the monks, this time was the bathing time or first alarming. The bathroom was filled with monks and some took bath outside. After bathing, it was time to dress up to be ready for the evening temple group chanting like in the morning one.
Only at 7:00 pm, the drum was beaten again. This one was to call everyone to the ordination hall for group chanting to pay the worship to Buddha. The process was exactly the same as the morning one. Dharma chanting for one hour, followed by meditation either Walking Mediation or Sitting Meditation. Then, everyone took a break to their own houses or places. Some were gathering for practising other on-learning lessons and some were learning their own new lessons. This learning session made the evening noisy just like the bullfrogs singing after a big rainfall.
In particular to Sam and Vanny as a short term monk, they sometimes took time to chit chat with Venerable Ry to learn more about the monks, Buddhism and other beliefs. Some of the evenings, Sam and Vanny visited the two Heads of the Monks and offered massages. As mentioned above starting from Noon till Sunrise, monks are not allowed to eat anything except for soft drinks, tea, coffee. Therefore, they got a lot of tea in during the talk. They only went to bed at around eleven or twelve mid-night. So only really few hours sleep during the course which made them losing weight significantly. This rotation went all over again and again for fourteen days.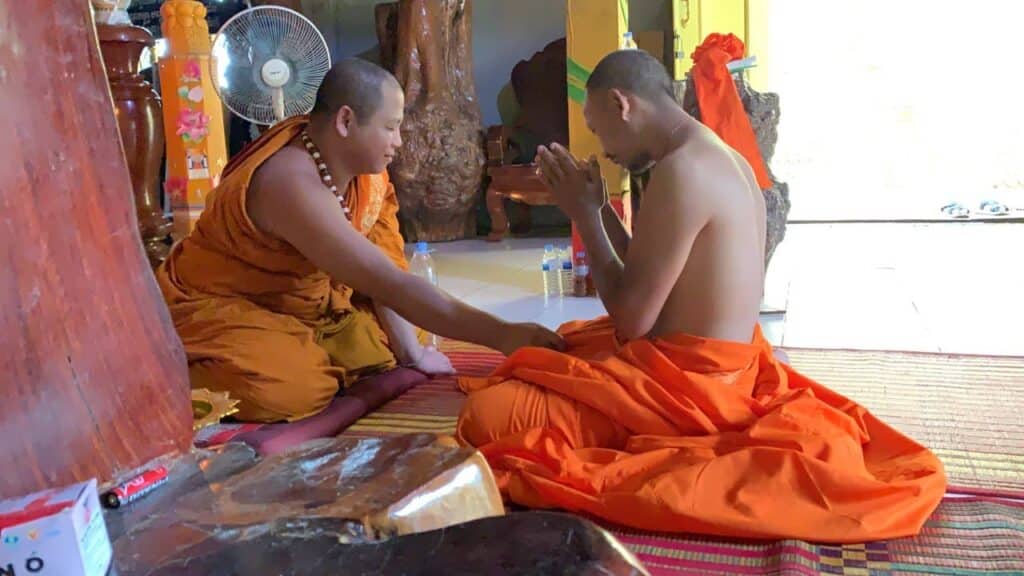 On the thirteenth day, Sam and Vanny visited the monk master again requesting to deordinate their monkhood to normal persons. Master Reach set the time which was in the afternoon after lunch. The deordination ceremony was so simple. There was no need of any crowds to participate. In the ordination hall, Sam and Vanny made the chanting to pay the respect and worship to Buddha and the master. Then, the master just reconfirm if they were surely to turn back to normal life. Then, he sermoned somethings and removed the monastic robes. Vanny and Sam changed their clothes and made some offerings to the master as a token of appreciation and thankfulness. The master gave them some pieces of advices to be a good person. Then the ceremony ended. Vanny and Sam were now back to normal people. They took some more days to serve the monks there and then took their motorbikes back home.
Please also note that Peung Bak Ro Tes monastery is the most peaceful temple. There is no phone service or internet available so Sam and Vanny were fully escaped from the crowd. What he learned and brought home was the meditation lesson and obviously the way of how monk live.
These are all about Sam's monkhood daily life activities. If you have other questions, please feel free to leave in the comment box. Sam Inspire will be more than happy to share more of his experiences and knowledge.
Note: This article doesn't reflect the general monk lifestyles because every Buddhist temple has its own routines. The above stories are only from Sam's as a novice monk at Peung Bak Ro Tes temple only.
---
Note: This article is for information purpose only, no liability will be taken for legal or official reference. Revisions could be done at the author's discretion.
SAM INSPIRE family hopes you find this information useful to your research. This article is the reflection of Mr. Sam's findings with zero political touch. If you need further support, please feel free to contact Sam, he will be so happy to do more steps to help you out.
If you find value in this article and wish to support Sam to do more, please feel free to pay him a coffee to his bank below. Thanks for being part of Sam's journey, Sam Inspire – Cambodia Travel, Lifestyle and Event Blogger – the Power of 3 E's, Energize, Educate, Empower.